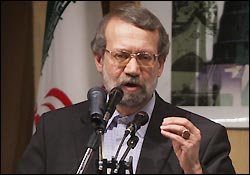 Evidences show that the US was involved in recent terrorist attack in Iran's southeastern province of Sistan Balouchestan, Iranian Parliament Speaker Ali Larijani said.
Speaking in open ceremony of constructive project in holy city of Qom, Larijani referred to terrorist attack in Sistan Balouchestan which martyred more than 40 people, including senior commanders of the Islamic Revolution Guards Corps (IRGC).
"Currently the attack continues and there are evidences that Americans were involved in terrorist attack" the Iranian labors news agency quoted Larijani as saying.
"Some are trying to move slogans against Russia and China they should pay attention toward America and Israel as nation recognized enemies their long history are evident for us," he noted.
"The US interfered in Iran's affairs in order to deal a severe blow on the Islamic Revolution, but it failed," Larijani added.
Larijani also underlined the necessity for investment in private section and called on further investment, adding, "We shouldn't only rely on public sector and attract privatization."