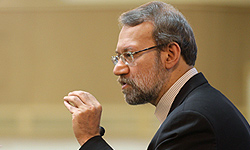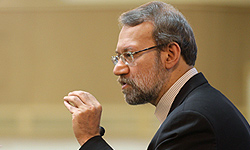 Iranian Parliament Speaker Ali Larijani called on Islamic states to take the opportunities provided by the recent developments in the region and in the world through convergence.
"Solidarity among the Muslim states will be materialized when the Islamic countries use their economic, political and cultural capacities by adopting the strategy of convergence, and shape their interactions like an influential pole," Larijani said, addressing the 8th General Assembly meeting of the Islamic Inter-Parliamentary Union (IIPU) in Khartoum, Sudan.
"Therefore" he added "in that context, conflicts and challenges among Islamic states should be minimized through friendly mechanism."
The Iranian speaker further noted that Islamic parliaments can pave the ground for the Muslim states' growing power by taking the advantages which have been provided by the recent regional and international developments.
On Sunday and upon arrival at the Sudanese airport, Larijani had said that he hoped the General Assembly Meeting of the IIPU would be beneficial for all the member states.
He also hoped that the IIPU meeting could reach a comprehensive agreement in the negotiations.
Larijani was welcomed by Sudanese Interim National Assembly Speaker, Ahmed Ibrahim al-Tahir, at the airport.