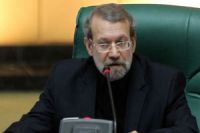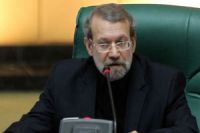 Iran's Majlis Speaker, Ali Larijani, has urged Muslim nations to give a crushing response to the Western regimes' deceptive moves in the region, throughout the International Qods Day demonstrations.
According to IRIB World Service, in an address to Majlis open session on Sunday, the Majlis speaker emphasized on maintenance of unity among Muslims, and pointed out that the Americans, via stirring unrests in Egypt and Syria, intend to gain a number of concessions for the Zionist regime of Israel.
In further remarks, the Speaker noted that the US officials, upon the assistance of the Zionist regime and a number of Arab states, intend to resume the so-called peace talks, while no mention has been made of an end to development of Zionist settlements.