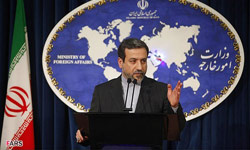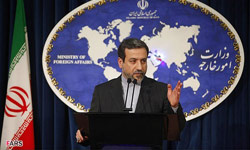 Iranian Foreign Ministry Spokesman Seyed Abbas Araqchi lashed out at the Canadian government's hostile policies vis-à-vis the Islamic Republic.
Araqchi's remarks came after the recent anti-Iran remarks by Canadian Foreign Minister John Baird and the holding of a conference against the Islamic Republic in Canada.
"The Canadian government's effort to hold a meeting attended by a number of infamous anti-Iran elements as well as the absurd and irresponsible anti-Iran remarks by the Canadian foreign minister is a clear example of violating the principle of non-interference in the domestic affairs of countries, which is a basic principle of the international law, and we condemn it," the Iranian foreign minister spokesman said on Wednesday night.
The Canadian foreign minister earlier accused Iran of "domestic repression and human rights abuses" during an anti-Iran conference, held on May 10-11 in Ontario, Canada, with the support of Canada's Department of Foreign Affairs and International Trade Canada.
Araqchi recommended that Canadian officials ascertain the authenticity of their information before resorting to such measures and comments against Iran.
The Iranian diplomat noted that Canada's blame-game in the foreign policy arena, particularly with respect to the Islamic Republic of Iran, will not be able to divert public attention either inside or outside Canada from issues such as the election fraud known as the Robocalls scandal, which brought the current Canadian government to power, or the blatant and systematic violation of human rights in Canada.
He said people around the world have learned about the massive racial discrimination, child trafficking and sex abuse, biased regulations for aborigines and minorities, growing poverty and unemployment among immigrants, racism and xenophobia in Canada, which were all reported by the UN official sources as well as Canada's non-government organizations.
Araqchi underlined that the international community is concerned about democracy and the human rights situation in Canada.