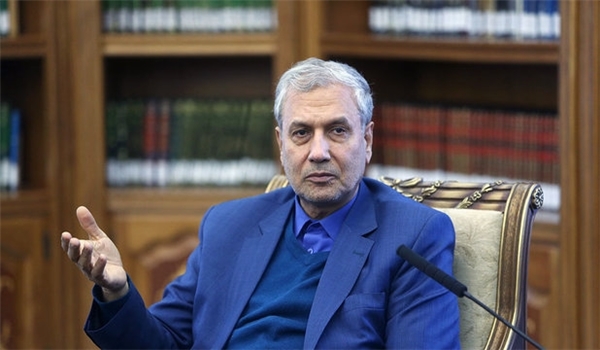 Iranian Government Spokesman Ali Rabiyee downplayed the effects of US sanctions against his country, stressing that Iran has many options for exporting its crude.
"Despite the espionage acts by Israel and the US, I clearly declare that we sell our oil as much as we need through planning," Rabiyee said on Tuesday.
He explained that Iran has 15 neighbors and is located in a region with many opportunities, and added, "We will be able to sell our oil through different methods and fortunately, there is good progress in advancing oil discoveries and plans."
In relevant remarks in November, President Rouhani said American officials had admitted their incapability to stop Iran's crude sales, and the US sanctions would only leave negative impacts on imports of foodstuff, medicine and medical equipment.
"What the Iranian officials said that the US is not able to zero Iran's oil exports was proved with the US recent admission," President Rouhani said after a trilateral meeting with the parliament speaker and judiciary chief in Tehran on November 10.
"The US announced that it cannot zero Iran's oil sales because the oil prices will rise to $150; this is what we had said (before). In this region, either Iran's oil is exported or others will be in trouble as well," he added.
President Rouhani referred to the US lies that the foodstuff, drugs and medical equipment were exempted from Washington's sanctions against Iran, and said, "This is incorrect. When the banking system is sanctioned, everything is affected."
Also, last month, President Rouhani blasted the US economic terrorism which has targeted the ordinary people in Iran, warning that attempts to zero his country's oil exports may put the international maritime shipping in danger.
"The world powers should know that in case of imposing comprehensive sanctions on Iranian oil and pushing the country's oil exports down to zero, international sea routes cannot remain as safe as before," Rouhani said in a meeting with Supreme Leader of the Islamic Revolution Ayatollah Seyed Ali Khamenei along with his cabinet members in Tehran.
He added that "unilateral pressures on Iran cannot be in their favor and secure their safety in the region and the world".
Rouhani underlined that Iran's "reduction of nuclear deal undertakings is moving on the right track", stressed that the country cannot tolerate the other side's lack of commitment in the long-run.
"We will continue this path if negotiations with the 4+1 fail," he added, noting that today, the US is recognized globally as an isolated promise-breaker.
"For the first time, Iran has managed to successfully sue the US at international legal bodies twice," President Rouhani said.
He described the US sanctions an act of terrorism, and said, "Today, the US has imposed economic terrorism against Iranian children, women and men."