Iran
North America
Spokesman: US Judiciary System Should Account for Death of Iranian National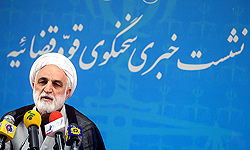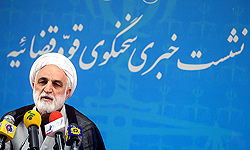 Iran's Judiciary Spokesman and Prosecutor-General Gholam Hossein Mohseni Ejeii underlined on Monday that the US judiciary system should account for the death of Daryoush Sarreshteh, an Iranian national, who died in the US two days after being intensely interrogated by customs officers at Dulles International Airport.
"The US judiciary system should account for the way he died and the cause of his detention, and we are also pursuing the case," Ejeii told reporters in Tehran on Monday.
He said that Iran's diplomatic apparatus has pursued Sarreshteh's death case in the US since the first day it was informed of it.
On US Election Night in November, Sarreshteh and his wife Sakineh, arrived at Dulles International Airport after 11 hours of flying from Tabriz, Iran. They were looking forward to seeing their daughter and granddaughter in Falls Church. Sakineh Sarreshteh is a naturalized US citizen and Daryoush Sarreshteh had a green card, though he had not been in the US in three years, Washington Post reported in December.
The three-year absence apparently caught the eye of someone at Customs and Border Protection at Dulles. They took the Sarreshtehs into the back and began to question them. According to Sakineh Sarreshteh, this involved a great deal of shouting and intimidating in English, which neither understood. The detention and interrogation lasted for more than five hours, with their confused family waiting elsewhere in the terminal, and it seemed to stagger Daryoush Sarreshteh. He emerged just before midnight, pale and fearful, his wife said.
Two days later, he suffered a sudden heart attack and died in his daughter's home in Falls Church. His family believes the interrogation by the Customs officers killed him.
"They took him from us," Sakineh Sarreshteh said, speaking through her daughter, Sepideh Sarreshteh. She said she believes the forceful interview was fatal, "because of the five hours of stress. He's not going to come back. Please don't do this to other parents and innocent people".
The Sarreshteh family is considering a lawsuit against Customs, depending on the results of the autopsy of Sarreshteh, said attorney Demetrios Pikrallidas, a family friend who was at Dulles the night the couple arrived from Iran, and was the first to see Daryoush Sarreshteh emerge from his interview around 11:45 p.m.
"He was shaking," Pikirallidas said. "He was panicked. He broke down in tears."
"They treated them like dogs," said Sapideh Sarreshteh, a nurse who lives in Falls Church with her 13-year-old daughter. "And they killed my Dad."
On Wednesday, Nov. 7 he appeared to be well, his daughter said. She went to work the next day, and the elder Sarreshtehs took a walk together, though "he couldn't walk very far."
When Sepideh Sarreshteh came home around 5 p.m. on Nov. 8, she said, "He didn't look himself." He asked her, strangely for him, "Can you take my blood pressure?" She didn't ask why, and didn't have the equipment. He didn't say anything, and went downstairs to watch TV.
About a half-hour later, his daughter and wife were calling Daryoush Sarreshteh to come upstairs for dinner. But he had collapsed in a bathroom, and was dead.
Pikrallidas, a Fairfax lawyer, said, "Our allegation is that the stress did this to him." He said it was possible Sarreshteh had developed a blood clot in his leg which traveled to his heart, but would not have been fatal if he hadn't been under stress. Sarreshteh's wife collapsed the night of his death and had to be hospitalized.
"This is basically a wrongful arrest," Pikrallidas said. "There's no reason to hold him for five hours."