Saudi Arabia
Yemen
Spokesman: Yemeni missile destroys military target in Saudi Arabia's Abha intl. airport with high precision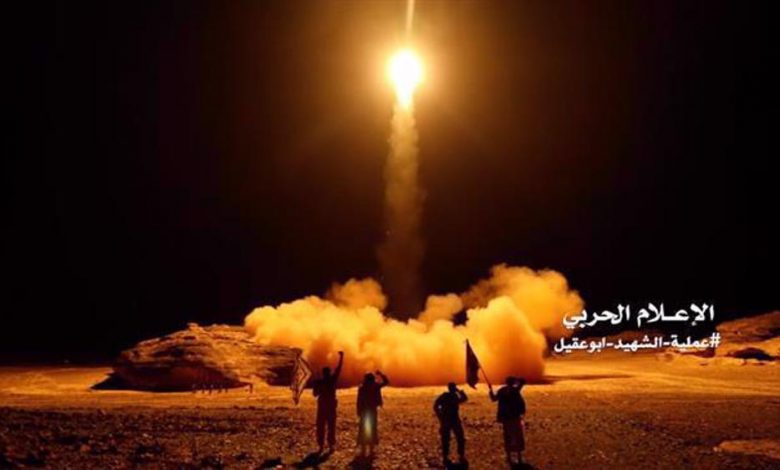 The spokesman for Yemen's army says a new missile fired by the country's armed forces and fighters from Popular Committees has hit a "sensitive" military target at Saudi Arabia's Abha International Airport with high precision.
According to Yemen's al-Masirah news agency, Yahya Saree said in a tweet on Monday that Yemeni forces have used a new missile in this attack, which has hit a "sensitive military target" at the Saudi airport with extreme precision.
He added that the new attack is in line with Yemenis' legitimate right to defend themselves in the face of the Saudi-led aggression and in answer to the continued blockade imposed on the country by Saudi Arabia and its allies.
Saree did not give any details about the type of the missile used in the attack.
بفضل الله تعالى تمكنت القوة الصاروخية من استهداف هدفٍ عسكري حساس بمطار أبها الدولي بصاروخ بالستي جديد دخل الخدمة مؤخرا ولم يكشف عنه بعد وأصاب هدفه بدقة عالية.
يأتي هذا الاستهداف في إطار الرد الطبيعي والمشروع على استمرار العدوان والحصار على بلدِنا. — العميد يحيى سريع (@army21ye) March 8, 2021
The Saudi-led coalition claimed later on Monday that it had intercepted and destroyed a Yemeni ballistic missile fired towards the city of Khamis Mushait and a drone launched towards the kingdom's southern region.
During recent weeks, the Yemeni army and fighters from Popular Committees have increased their drone and missile attacks on military targets and oil installations deep inside Saudi Arabia in retaliation for Riyadh's all-out aggression against the impoverished country and the total blockade imposed on its people.
On Sunday, Saree said in a tweet that the Yemeni forces had launched new drone and missile attacks on targets deep inside Saudi Arabia, noting that all targets were hit with high precision.
Saree added that 14 Sammad and Qasef K2 drones as well as eight ballistic missiles were used in new attack, which targeted Saudi military bases in Dammam, Asir and Jizan regions.
The new operation also took aim at facilities of Saudi oil firm Aramco in Ra's Tanura. https://if-cdn.com/xYB2QcU?v=1&app=1
Saree warned that if the Saudi-led war continued against Yemen, the country's armed forces will carry out more operations against military and economic targets inside Saudi Arabia.
Last Thursday, Yemen's forces launched a missile attack against Saudi Arabia's Aramco oil facility in the kingdom's Red Sea city of Jeddah.
Saree said that army troops and allied fighters from Popular Committees had launched a retaliatory missile attack against the oil facility in Jeddah, adding that the Quds-2-type cruise missile had hit the designated target with high precision. https://if-cdn.com/EyKFROF?v=1&app=1
Saudi Arabia has confirmed that a Yemeni drone attack targeted a petroleum tank farm at Ras Tanura port and a ballistic missile targeted Saudi Aramco's facilities in the city of Dhahran.
In a statement on Sunday, a spokesman for the Saudi Energy Ministry acknowledged that a drone coming from the sea hit one of the petroleum tank farms at the Ras Tanura Port – one of the largest oil shipping ports in the world, in the morning.
The spokesman also said a "ballistic missile's shrapnel" fell near Saudi Aramco's residential area in the city of Dhahran after it was intercepted.
Last November, Yemeni forces had hit the same facility with another locally-developed surface-to-surface missile, an attack that sparked a raging fire at the plant.
Last Tuesday, Yemen's Air Force successfully hit the garrison of Saudi warplanes at Abha International Airport using a combat drone.
Saudi Arabia and a number of its regional allies launched the war on Yemen in March 2015, with the goal of suppressing a popular uprising that had toppled a Riyadh-friendly regime.
The Yemeni armed forces and allied popular groups have been successfully defending Yemen since then.
But the Saudi-led war and blockade have created a humanitarian crisis in Yemen. The United Nations (UN) says more than 24 million Yemenis are in dire need of humanitarian aid, including 10 million suffering from extreme levels of hunger. The world body also refers to the situation in Yemen as the world's worst humanitarian crisis.