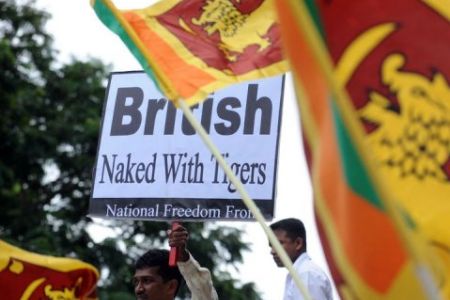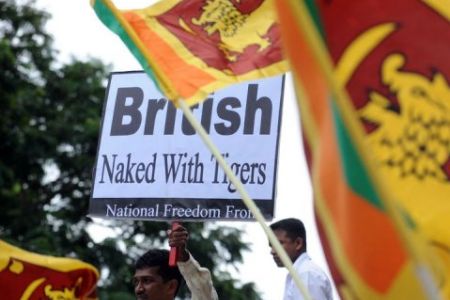 Sri Lankan demonstrators have criticized the British government and Oxford University for canceling a speech by their president in the UK.
Hundreds of ruling party activists gathered outside the British Embassy in Colombo to denounce the move. The protesters, led by Sri Lanka's housing minister held the British government responsible for the cancellation.
"British imperialists, we will never surrender to you," Housing Minister Wimal Weerawansa said.
"Down with anti-Sri Lanka policy!" shouted activists.
President Mahinda Rajapaksa was to address the Oxford Union on Thursday. However, organizers cancelled his speech after London's Tamil population protested the visit.
The demonstrators accused Rajapaksa of war crimes during Sri Lanka's three-decade war against the Tamils, and called for his arrest.
Tension has risen between Colombo and Western governments over a range of issues, including Colombo's final onslaught against the rebels.
Sri Lanka has accused the US and its allies of protecting and supporting the rebels in the past as well. Rajapaksa is credited for the final defeat of the Liberation Tigers of Tamil Eelam (LTTE) in May 2009.
Former British foreign secretary David Miliband and his French counterpart Bernard Kouchner failed to secure a truce between Sri Lankan forces and LTTE rebels in the past.
Colombo dismissed a Western-backed ceasefire with the Tigers, calling it a 'joke' as the rebels were near a final defeat.
"It is my duty to protect the people of this country. I don't need lectures from Western representatives," Rajapaksa said in a speech in May, 2009.
The president strongly condemned the US and its NATO allies for their crimes against civilians in war-ravaged Afghanistan. US-led strikes have killed hundreds of civilians across Afghanistan over the past months.
"We have seen how Afghanistan is bombed. Those who come to preach to us [have] seen how Afghanistan is bombed. It must be made clear that before accusing others, you must have the strength to know what you do yourself," Rajapaksa said.
The Tigers took up arms in 1983 to establish an independent homeland for the Tamil ethnic minority. The conflict resulted in the deaths of 70,000 people over nearly three decades of violence.