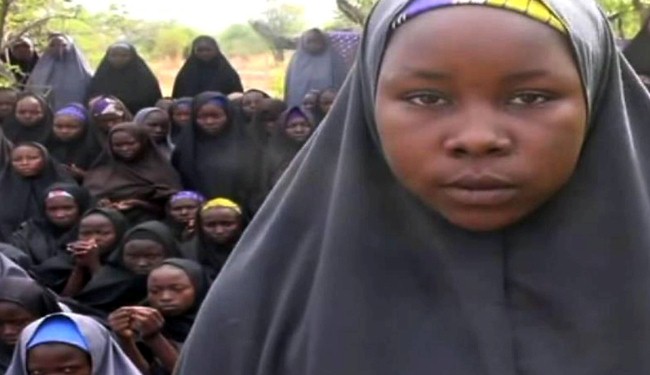 Boko Haram militants have released a video claiming to show the missing Nigerian schoolgirls, offering a prisoner swap deal to release the girls.
In the 17-minute film, about 130 girls wearing full veils can be seen praying in an undisclosed location.
A total of 276 girls were abducted by Boko Haram on 14 April from the north-eastern town of Chibok, in Borno state, which has a sizeable Christian community. Some 223 are still missing.
In the video, the leader of the militant group, Abubakar Shekau, said he would release the girls in exchange for Boko Haram prisoners.
Speaking in Hausa and Arabic, Shekau restates his claim of responsibility made in a video released last Monday: "These girls, these girls you occupy yourselves with … we have indeed liberated them."
Speaking about his terms to end the kidnapping, he said, "We will never release them [the girls] until after you release our brethren. Here I mean those girls who have not submitted [converted to Islam]," he added.
International efforts to trace the girls have widened in recent days.
Some of the kidnapped victims managed to flee their abductors. Science student Sarah Lawan, 19, told the Associated Press on Sunday that more young women who were seized could have escaped but they were frightened by their captors' threats to shoot them.
Speaking via telephone from Chibok, she said: "I am pained that others could not summon the courage to run away with me," she said. "Now I cry each time I come across their parents and see how they weep when they see me."
Boko Haram, whose name translates loosely from the Hausa language spoken widely in northern Nigeria as "western education is sin", has attacked schools, churches, government installations and, increasingly since 2009, civilians.
The kidnapping of young girls and women has been used as a previous tactic, but the scale of these abductions – and threats from Shekau to sell the girls as slaves – has galvanized the international community into action.
Several regions of Nigeria have been hit by deadly violence in recent years.
Over the past four years, violence in the north of Africa's most populous country has claimed the lives of 3,600 people, including killings by the security forces.