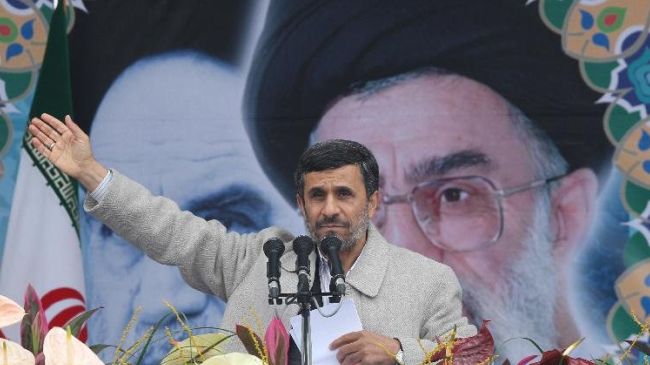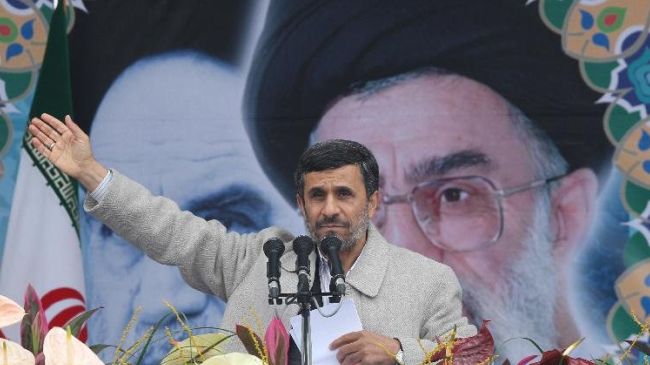 Iran's President Mahmoud Ahmadinejad has warned of the emergence of a "huge storm of global awakening" that aims to put an end to the hegemony of the Western powers.
Speaking at the Saturday assembly of millions of Iranians marking the 33rd anniversary of Iran's Islamic Revolution in the capital city of Tehran, Ahmadinejad called on the Western powers to take heed of the world nations' demands against the backdrop of the spreading popular movements across the globe.
"The huge awakening is underway. The storm of global awakening is underway. If you do not join the nations, this storm will uproot tyranny and oppression. It is to your interest to be on the side of the nations," the Iranian President said, addressing the Western powers.
Ahmadinejad described Marxism and Capitalism as the most tyrannical systems in the entire human history, saying, "Marxism is gone and the sounds of the bones of capitalism being crushed have echoed through the world."
The Iranian chief executive insisted that the world is in need of a new order which guarantees justice, righteousness, prosperity, security and dignity for all humans, and argued that such universal governance should transcend all racist stigmas and be based on respect for humanity.
He attributed all the world's problems to the US domination and Israel's existence as Washington and Tel Aviv have been propping up all the autocratic regimes across the world.
Ahmadinejad made reference to the West's escalating pressure against Iran over the country's peaceful nuclear program and argued that the Western powers are in fact against Iran's progress and they employ the nuclear issue as a pretext to hinder the country's achievements.
He insisted that Iran will never be diverted from its true path "even an iota" and that the nation has managed to change hegemonic power's discourse.
The Iranian president warned the Middle Eastern countries against the enemy plots to sow discord in the region and urged the regional nations to exercise vigilance against major developments unfolding .