Iran
Latin America
Middle East
Stranded Iranian vessel heading back home from Brazil, 2nd ship to follow
One of the Iranian vessels stranded in the Brazilian port of Paranagua is heading back home after receiving fuel from state-led oil company Petroleo Brasileiro SA.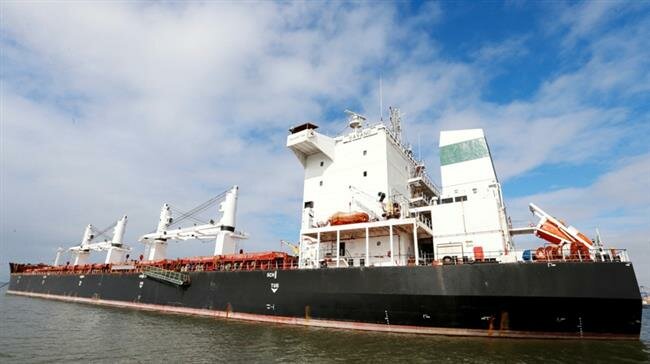 The ship called Bavand, departed the Brazilian port on Monday, according to the Paranagua port.
Meanwhile, the second vessel, Termeh, which set sail from the Paranagua port two days ago, was on Monday heading to another Brazilian port, where it would be loaded with corn before setting sail for Iran.
The Iranian ships, which had brought urea to Brazil, had been stranded for weeks at the Brazilian port after the country's state oil company of Petrobras refused to provide fuel to them for fear of breaching US sanctions on Iran.
On Thursday, however, Brazil's highest judicial authority ordered Petrobras to refuel the ships, overturning an injunction that had authorized the oil firm to withhold the service.
Petrobras had earlier refused to refuel the ships saying that they had appeared on a list of US sanctions. The company argued that other fuel companies could supply the Iranian ships, despite the fact that it has an effective monopoly on refueling services at Brazilian ports.
The court order came a few days after Iran asked Brazil to allow refueling the ships or have Tehran cancel imports worth about $2 billion a year from the Latin American country.
Brasilia and Tehran have long enjoyed a good history of political and economic relations.
Iran warns Brazil of consequences over stranded shipsIran has asked Brazil to allow refueling of Iranian ships or have Tehran cancel imports worth about $2 billion a year from the Latin American country.
Brazil has emerged as a new destination for petrochemical shipments from Iran, which is tapping new markets to compensate for sliding oil sales. Iran is also one of the largest grain importers from Brazil.
US President Donald Trump brought back sanctions against Iran last year after leaving a multilateral nuclear agreement between Iran and world powers. This is while the deal, officially known as the Joint Comprehensive Plan of Action (JCPOA), has been ratified in the form of a United Nations Security Council resolution.