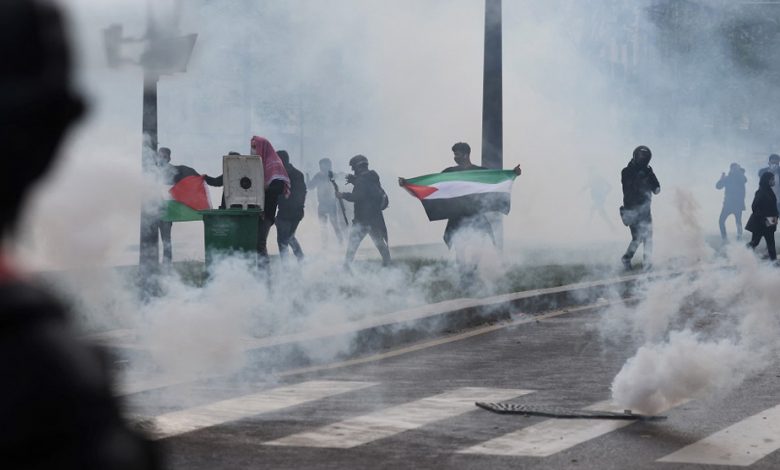 Israel's deadly bombardment of the blockaded Gaza Strip has sparked protests worldwide in support of the Palestinian nation and in condemnation of the occupying regime's aggression.
Israeli aerial assaults have killed at least 174 people, including 47 children and 29 women, in Gaza over the past week and wounded nearly 1,000 others.
However, the Times of Israel said while Tel Aviv may claim tactical gains through razing high-rise buildings in Gaza, Palestinian resistance groups are "proving the strategic victor".
On Saturday, thousands of protesters took to the streets of major cities across Europe to vent their anger at the Israeli crimes against the Palestinians. There were similar gatherings in the US, Australia and Iraq.
In London, over 100,000 demonstrators carrying placards reading "Stop Bombing Gaza" and chanting "Free Palestine" converged on Marble Arch, near the British capital's Hyde Park, to march towards the Israeli embassy.
The police said nine officers were injured as they tried to disperse the crowd outside the Israeli mission, adding that 13 people were arrested.
"This time is different. This time we will not be denied any more. We are united. We have had enough of oppression," Palestinian Ambassador to the UK Husam Zomlot told the protesters. "Today we are saying enough, enough with the complicity."
In Paris, police fired tear gas and water cannons to disperse a pro-Palestinian rally, which was held despite a ban by authorities.
"You want to prohibit me from showing solidarity with my people, even as my village is being bombed?" said Mohammed wearing a "Free Palestine" T-shirt.
Hundreds of people also took part in authorized protests in other French cities, including Lyon, Marseille, Montpellier, Toulouse and Bordeaux.
Protesters in the German capital, Berlin, shouted "Boycott Israel" and threw paving stones and bottles at the police, leading to several arrests.
Other demonstrations took place in the cities of Frankfurt, Leipzig and Hamburg.
They came a few days after Israeli flags were burnt in front of two synagogues in the cities of Bonn and Muenster.
German Foreign Minister Heiko Maas vowed "unwavering" protection of synagogues, saying, "There must be no tolerance for attacks against synagogues in our country."
In Madrid, some 2,500 people, many of them young people wrapped in Palestinian flags, marched to the city center, chanting slogans such as, "This is not a war, it's genocide."
The Association of the Spanish-Palestinian Community held the "Jerusalem" rally on the 73rd anniversary of the Nakba Day (the Day of Catastrophe), when the Israeli regime proclaimed existence and drove hundreds of thousands of Palestinians from their homeland in 1948 .
"They are massacring us," said Amira Sheikh-Ali, a 37-year-old of Palestinian origin. "We're in a situation when the Nakba is continuing in the middle of the 21st century."
"We want to ask Spain and the European authorities not to collaborate with Israel, because with their silence, they are collaborating," said Ikhlass Abousousiane, a nurse of Moroccan origin.
Danish police violently arrested Palestinian supporters who were protesting in front of the Israeli embassy in Copenhagen and dispersed them with tear gas.
According to Anadolu news agency, the protesters were about to leave the subway station in Copenhagen for the Israeli embassy when they were attacked by police.
In Athens, around 500 people rallied, but there were minor scuffles after Greek police used tear gas and water cannons to disperse the crowd.
Shouting "Freedom to Palestine" and waving Palestinian flags, the participants marched to the Israeli embassy that had been cordoned off by police buses.
Similarly, the Australians marched in Sydney and Melbourne to condemn the Israeli attacks on Gaza.
In Sydney, protesters chanted slogans like "Free, free Palestine" and "Free, free Gaza".
"I see an uprising," said Sydney protester Walla Abu-Eid. "I see people who are no longer going to remain silent. People who are fed up, people who are responding to oppression and violence by standing up for themselves."
In Iraq, several cities witnessed protests, with the participants burning Israeli and American flags.
Thousands of demonstrators shouted anti-Israeli slogans, waved Palestinian flags and held signs saying "Death to Israel, death to America."
The rallies were called by Iraqi cleric Muqtada al-Sadr and other political leaders.
More than 65 cities in the US were also the scene of protests in support of Palestine. They were held in response to a national call to action by the Palestinian Youth Movement and the Act Now to Stop War and End Racism (ANSWER) Coalition.
An estimated 10,000 people gathered at the Washington Monument in Washington, DC, on Saturday afternoon.
Large marches were also reported in the California cities of San Francisco and Los Angeles, as well as in Philadelphia and New York City.