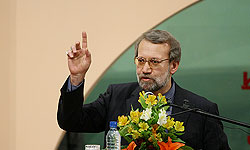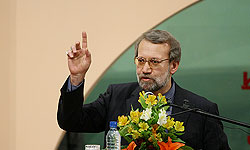 Parliament Speaker Ali Larijani said Iran's strong foreign policies in the recent years are now bearing fruits.
The Speaker made the remarks in Geneva, Switzerland, where he has traveled to attend the 121st General Assembly of the Inter-Parliamentary Union slated for October 19-21.
He said all Iranian officials and the nation had a heavy responsibility to protect the Islamic system at the present juncture when it was being attacked by enemies.
Referring to the Goldstone Report, he also said the international community had always kept silent in the face of Israeli crimes in the occupied Palestine while the new report which reveals just a portion of the Zionist crimes in the enclaved opened new capacities in the world arena to discuss and condemn such atrocities, the Islamic republic news agency reported.
Pointing out that Iran was one of the few world countries which opposed the attack of the US on Iraq and Afghanistan as two Muslim nations, Larijani said now after years of occupation of these two countries other world countries too were joining voices with Iran in condemning the US acts.
He stressed that monopoly and unilateralism would have become the dominant universal practice had Iran not opposed the US hegemonic policies.
Larijani arrived in Geneva on Sunday leading a delegation.
He is to deliver a keynote speech at the general assembly of the IPU on Monday in which he will raise the issues of disarmament and crisis in Palestine, particularly in the Gaza Strip.
Parliamentarians from 120 countries are to discuss various issues, including terrorism, human trafficking and organized crime as well as some other international developments in the meeting.
The IPU is an international organization established in 1889. It has 153 members and its headquarters is in Geneva.