Middle East
North America
Saudi Arabia
Study: US-Saudi arms deals 'dramatically understated'
An American think tank says it has found new data showing US arms deals with Saudi Arabia and the UAE are "dramatically understated" and billions more than previously reported.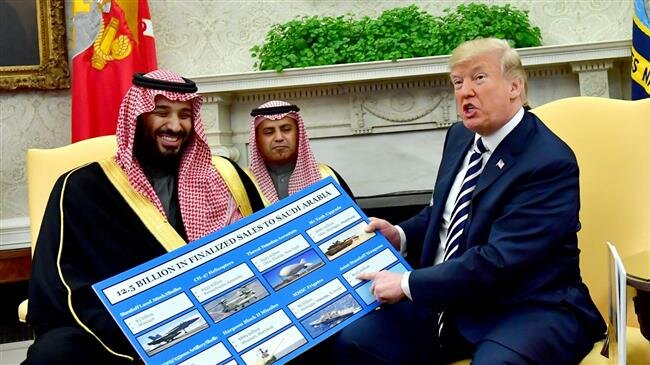 The data collected by arms trade watchdog Security Assistance Monitor (SAM) shows the US has struck at least $68.2 billion worth of deals with the two countries since they started their war in Yemen.
The colossal sum includes, for the first time, both commercial and governmental arms deals and indicates that US involvement in the disastrous war may be greater than suspected, said London-based Middle East Eye which cited the data.
"In fact, the weapons expenditure could have funded the United Nations's 2019 humanitarian appeal for Yemen – which totaled $4 billion – 17 times over," the online news outlet said.
Government sales tend to be for major systems, like combat aircraft, tanks, bombs, and ships, while commercial sales include smaller weapons like firearms and bombs disproportionately used in Yemen.
According to William Hartung, the director of the arms and security project at the Center for International Policy, the commercial data shows the US role in Yemen is "dramatically understated."
That is because commercial sales are "so rarely discussed, compared to big glitzy deals like the fighter planes," said Hartung whose progressive think tank in Washington houses SAM.
Middle East Eye quoted a US State Department official who confirmed the overall value of American weapons deals with Saudi Arabia and the UAE in their war on Yemen totaling about $67.4 billion.
New details about the arms deals come amid a continued push in US Congress to end Washington's involvement in the war in Yemen, which has displaced millions and led to widespread disease and malnutrition.
US Congress rebukes Trump for aiding Saudi war in YemenBoth chambers of the US Congress have approved a resolution to end US support for the Saudi Arabia-led war against Yemen.
On Thursday, the House of Representatives approved a resolution to end US support for the Saudi war. The lower chamber voted 247 to 175 to approve a resolution that directs President Donald Trump "to remove United States Armed Forces from hostilities in or affecting the Republic of Yemen" within 30 days.
The new data reportedly shows the US approved arms deals with Saudi Arabia and the UAE just days after they used US bombs to kill civilians in Yemen and also after the brutal killing leading journalist Jamal Khashoggi.
Deals made soon after Saudi attacks using US weapons included a bomb on August 9, 2018 which hit a school bus in northern Yemen carrying boys on a field trip, killing 54 people, Middle East Eye reported.
Another Saudi bombing of a wedding northwest of the Yemeni capital Sana'a on April 22, 2018 reportedly killed 33 people, including the bride. Days later, it was proved that US firm Raytheon had made part of a bomb found at the scene of the attack.
"It's hard to imagine a more dramatic example of the negative consequences of US arms sales," Hartung said.
"They're supporting regimes that are murdering civilians and causing a humanitarian catastrophe… This is a stain on the United States."
According to Hartung, a withdrawal of all channels of military support to Saudi Arabia and the UAE would cripple their ability to wage war in Yemen and particularly the indiscriminate air war.
However, the Trump administration is "putting a stamp of approval on what these countries are doing" in Yemen so much so that over two-thirds of the entire Saudi combat-ready fleet comes from the US.
Arms flow into Mideast dangerously rises: StudyA new research has found that arms sales to the Middle East have grown by 87 percent over the past five years.
The Saudi war has so far claimed the lives of about 56,000 Yemenis, says the Armed Conflict Location and Event Data Project (ACLED), a nonprofit conflict-research organization.
The war has also taken a heavy toll on Yemen's infrastructure, destroying hospitals, schools, and factories.
The UN has warned that a record 22.2 million Yemenis are in dire need of food, including 8.4 million threatened by severe hunger.