Africa
Sudan protesters flood to capital as standoff with military drags on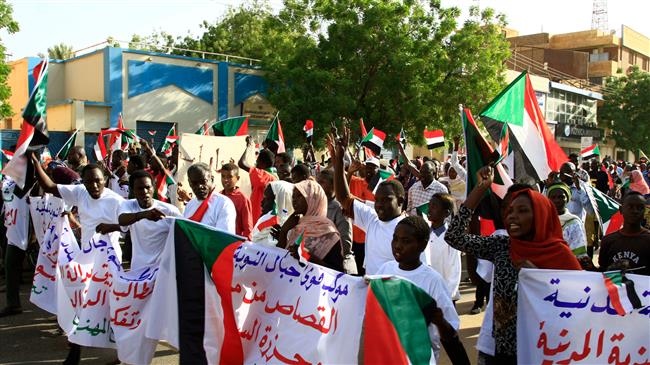 Crowds of Sudanese demonstrators have begun converging outside the army headquarters in the capital Khartoum for a "million-strong" march to press for a civilian rule.
The angry demonstrators on Thursday flocked to the protest site in central Khartoum to join the thousands who have remained camped there round-the-clock for weeks.
The bulk of the crowd was expected to converge at the protest site only later in the day, when the worst of the midday heat had passed.
This came after leaders from the Alliance for Freedom and Change, Sudan's leading protest group, pledged to announce a "million-strong march to assert our main demand, which is for civilian rule".
"We expect the march to draw huge crowds today," media outlets quoted Ahmed al-Rabia, a protest leader, from the alliance as saying.
Protest leaders are also expecting to hand the military a proposal for new civilian structures, including "a sovereign council, the executive and the legislative bodies".
The fresh protests have exacerbated tensions between the two sides.
The military council has warned it will not allow "chaos" after six Sudanese security personnel were killed in a series of violent clashes with protesters on Monday.
The two sides have agreed to form a joint civilian-military council to rule Sudan but are at odds over its composition.
The proposed joint council is to replace the existing 10-member ruling body of army generals that took over after Omar al- Bashir's ouster in the face of mass protests against his three-decade rule.
The army has been pushing for a 10-member council of seven military representatives and three civilians. The protest leaders, however, are demanding a council made up of eight civilians and seven generals.
The spokesman of the military council Shamseddin al-Kabbashi has recently said the "armed forces must remain in the sovereign council" because of tensions facing the country.
But Mohamed Naji al-Assam, a leader of the Sudanese Professionals Association (SPA), said in a press briefing on Tuesday that the generals were not serious about handing over power to civilians.
Thousands of protesters have been camping outside the army headquarters in Khartoum, three weeks after the military and security forces removed Bashir from power on April 11.