Africa
Sudan's military arrest protest leaders after meeting with Ethiopia PM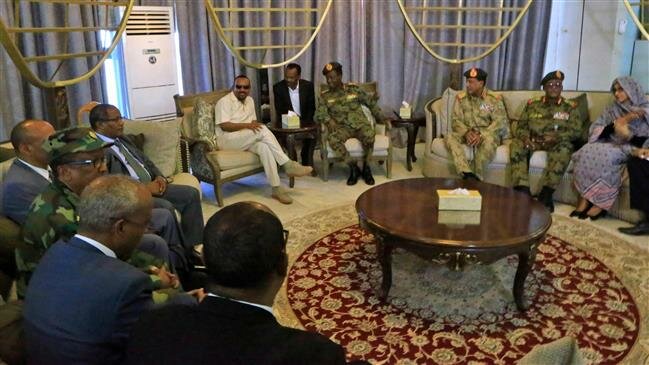 Sudanese military forces have detained leading opposition members after they met with visiting Ethiopian Prime Minister Abiy Ahmed, who was in the capital Khartoum to help end the ongoing political impasse in the country.
Ahmed met representatives of both sides on Friday in a bid to revive talks between Sudan's Transitional Military Council (TMC) and protest groups.
Among those who attended the meeting were opposition leader Mohamed Esmat and a leader of the rebel Sudan People's Liberation Movement-North (SPLM-N), Ismail Jalab. Security forces arrested both men later on without giving any reason, their aides said Saturday.
"A group of armed men came in vehicles at 3:00 am (1:00 GMT) and took away Ismail Jalab .. without giving any reason," said Jalab's aide Rashid Anwar, adding that SPLM-N spokesman Mubarak Ardol was also detained.
"We don't know where they are being held," he added.
The meeting came days after the military raided a sit-in protest outside the army headquarters in central Khartoum, killing at least 30 people.
The protesters have been calling on the military rulers to hand over power to a civilian government.
The Sundanese military announced last month that it had unseated President Omar al-Bashir and later imprisoned him. It then set up the TMC to rule the country and promised to hand over after elections.
But protests, under whose pressure Bashir was forced out, have continued in Sudan, with people demanding that more civilians be on the council than military figures during the transition period.
Saudi Arabia and the United Arab Emirates (UAE) have already announced their support for the transitional military council. They have also expressed support for measures taken by the council following Bashir's ouster.
A Sudanese military expert told the Middle East Eye on condition of anonymity that Sudan's military ruler General Abdel Fattah al-Burhan had even discussed the recent crackdown on the protesters with Riyadh and Abu Dhabi.
"The breaking up of the sit-in was one of the main points on the agenda that was discussed. Unless he got the green light from his regional allies he would not have been able to commit such a crime," he said.
The military expert was referring to a recent visit by Burhan to Saudi Arabia, the United Arab Emirates and Egypt.
Both Riyadh and Abu Dhabi have ties with Burhan and his deputy, Mohamed Hamdan Dagalo, through their participation in the kingdom's protracted war on Yemen.
Saudi Crown Prince Mohammed bin Salman had previously pledged to continue supporting the military transition council if Khartoum agrees to keep its forces in Yemen.