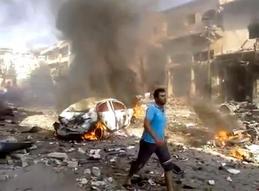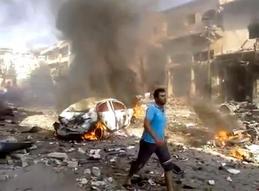 A suicide bomber blew up a truck laden with explosives at an army checkpoint in Syria's central city of Hamah Sunday killing at least 31 people, a monitoring group said.
"At least 31 people, including regime troops, were killed when a man detonated a truck laden with explosives at a checkpoint near an agricultural vehicles company on the road linking Hamah to Salamiyeh," the opposing UK-based Syrian Observatory for Human Rights said.
The Britain-based watchdog said the death toll was likely to rise, as "there are dozens of wounded, some of them in critical condition".
A car bomb hit the city of Hamah in central Syria on Sunday, causing multiple casualties, Syria state television had already reported.
"A terrorist car bomb explosion went off near an agricultural vehicle company on the edge of Hamah city," the broadcaster reported.
"Several people were killed or wounded."