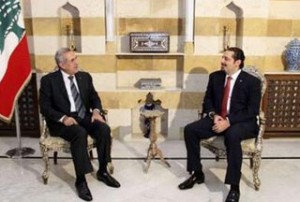 Lebanese President Michel Suleiman said Tuesday during the last year Arab world has witnessed a growing understanding.
During a meeting with Lebanese political officials Suleiman referred to the recent meeting of Arab heads in Doha, Qatar, and said Arab world has moved toward convergence.
In Doha meeting, Arab countries' officials had reiterated their commitment to the Arab peace initiative.
Lebanon President called the Zionist regime responsible for the defeat of the Middle East peace process adding Tel Aviv has blocked the way of peace talks' progress by not being committed to the peace commitments.
By insisting on establishment of new settlements, judaizing the holy Qods, imposing pressure on the Gazans as well as threatening Lebanon's foundations and infrastructures, the Zionist regime has only worsened the regional crisis and blocked the peace, he continued to say.
Lebanon President also reaffirmed on the right of all Palestinians to return their homeland.