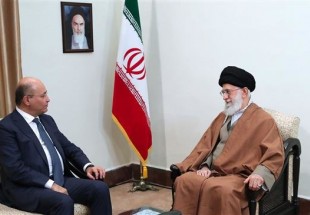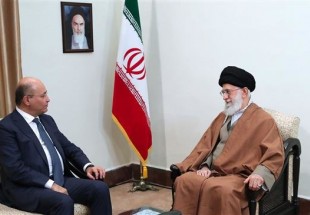 Leader of the Islamic Revolution Ayatollah Seyyed Ali Khamenei has slammed foreign meddling in Iraq, saying the Arab country must stand firm against its enemies.
"The way to overcome problems and counter ill-wishers' plots is to preserve national unity in Iraq, properly recognize friends from foes, stand up to the brazen enemy, rely on youths and maintain and strengthen links with the [clerical] sources [of emulation]," the Leader said in a meeting with Iraqi President Barham Salih and his accompanying delegation in Tehran on Saturday.
Ayatollah Khamenei hailed the recent successful parliamentary vote in Iraq and the election of a president and a prime minister as well as the establishment of stability in the country.
Ayatollah Khamenei said the Iranian and Iraqi nations have deep-rooted, historical and remarkable bonds and hailed the Iraqi government and people's hospitality towards Iranians during Arba'een commemoration, which marks the 40th day since the martyrdom anniversary of Imam Hussein (PBUH), the third Shia Imam.
The Leader pointed to the suffering of the Iraqi people in the past and said "some ill-wishing governments and countries" now seek to deprive Iraqis of the sweet taste of their great achievement of gaining independence and prevent the restoration of peace in Iraq and the entire region.