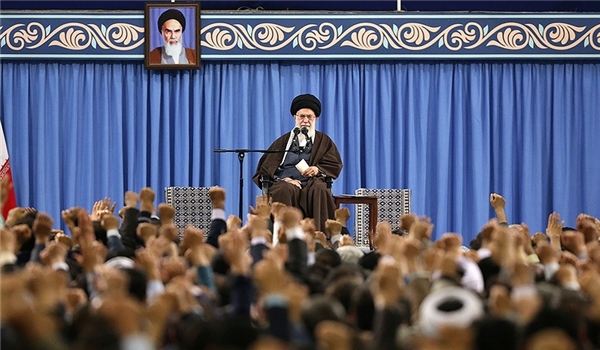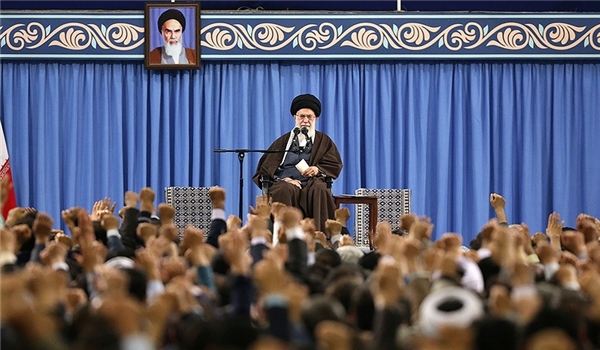 Supreme Leader of the Islamic Ummah and Oppressed Imam Ayatollah Seyed Ali Khamenei warned of enemies' vast and complicated war against Iran, stressing the spy agencies' key role in this regard.
"We are in the midst of a huge battleground that the Islamic Republic and an extensive and powerful front of enemies are on two opposing sides," Ayatollah Khamenei said, addressing a meeting with the Iranian intelligence minister and his personnel in Tehran on Wednesday.
"The spy services of the other side are the main pivot of this confrontation," he said, but meantime stressed that the secret services of these enemy states have failed to score any major success so far despite all their possibilities.
Ayatollah Khamenei, meantime, cautioned the Iranian officials against ignorance and downplaying enemies' moves and plots, and said they resort to different methods, including data theft, changing the policy-makers' calculations, changing people's beliefs and (fomenting) financial and security chaos, in their complicated war of intelligence against Iran.
In relevant remarks in January, Ayatollah Khamenei warned that the enemies have mobilized all their power and tools to hit a blow at Iran, alluding to certain foreign states' role in the recent riots in the country.
"The enemy has always been waiting for an opportunity and a breach to enter and hit a blow to the Iranian nation," Ayatollah Khamenei said, addressing the families of the Iranian martyrs in Tehran.
"The the enemies of Iran have allied to create problem for the Islamic Republic by different tools in their hands, including money, weapons, policy and security organizations," he added.
Ayatollah Khamenei said that the nation's spirit of bravery, sacrifice and faith blocks the enemy and its hostilities.