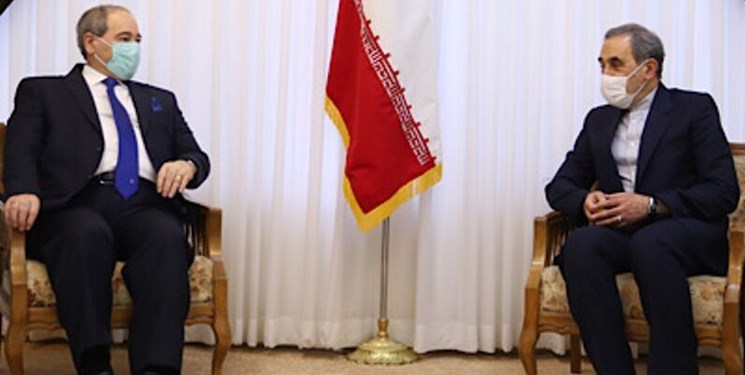 "The Syrian nation's resistance against the ill-wishers and enemies bolstered the Resistance Movement in the region and did not let the enemies' evil dreams come true," Velayati said on Monday in his meeting with the visiting Syrian Foreign Minister Faisal Mekdad.
"Undoubtedly, Syria plays a fundamental and decisive role in the Resistance Front, and it has paid a heavy price for it, but today, it strongly continues the path of dignity and independence more than ever," he said.
Underlining the role of President Bashar al-Assad and public support in achievement of victories, Velayati said that the Syrian people, with the help of other countries on the Resistance Front, foiled international conspiracies hatched by some 80 colonial regimes, regional reactionaries and Zionists.
Mekdad, for his part, highlighted Iran's valuable role in supporting the Syrian government and people, saying that the two nations enjoy very broad relations in various cultural, social, economic and political fields.
"Assassinating Iran's anti-terror Commander Lieutenant General Qassem Soleimani and Iranian scientist Mohsen Fakhrizadeh caused great sorrow in the heart of the Syrian people, and we are very sad about this," he said.
In relevant remarks on Monday, Iranian Foreign Minister Mohammad Javad Zarif and his Syrian counterpart Faisal Mekdad in a meeting in Tehran conferred on bilateral relations and the latest regional and international developments as well as the two countries' joint efforts in fight against terrorism.

Faisal Mekdad (L) and Mohammad Javad Zarif (R)
During the meeting, the two officials referred to the extensive and strategic ties between Iran and Syria, stressing the two countries' determination to expand and consolidate relations, specially in the economic field.
Zarif, for his part, expressed pleasure in the continued political process in Syria, emphasizing Iran's support for the Astana process.
He also described the recent conference on the Syrian refugees in Damascus as a positive step.
Zarif also underscored the need for vigilance and consultations among Iran and Syria and other countries given the recent regional conditions and developments.
Mekdad appreciated Iran for continued support for Syria in the fight against terrorism and extremism, and termed joint cooperation between the two countries in this area important and a fundamental step to return peace and tranquility to Syria.
He also said the US abnormal acts in the region which benefit Israel's interests have increased tensions.