Africa
World News
Suspected Boko Haram militants attack polling stations in Nigeria, kill 2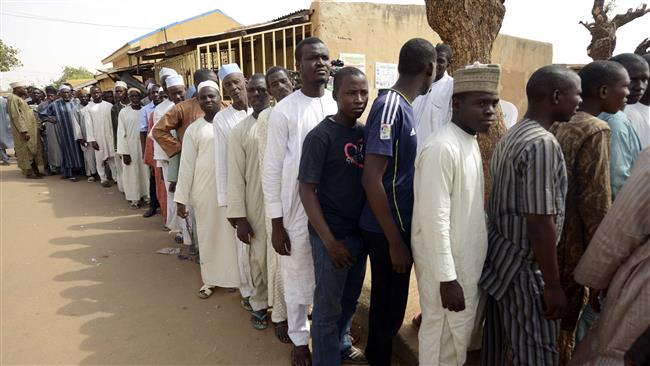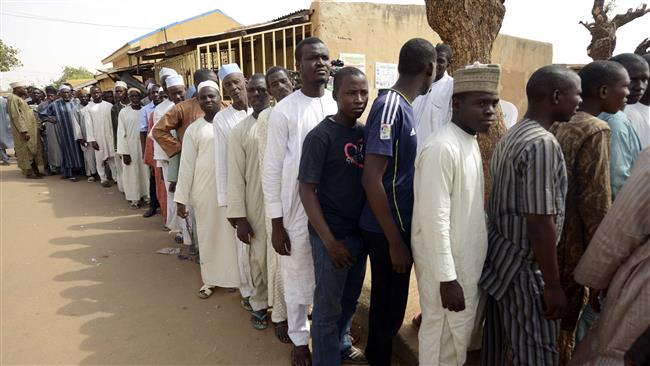 Unidentified gunmen suspected to be members of the Boko Haram Takfiri terrorist group have attacked polling stations in northeastern Nigeria, killing 2 people.
The assaults took place in the villages of Birin Bolawa and Birin Fulani in the Nafada district of Gombe State on Saturday.
"We could hear the gunmen shouting, 'Didn't we warn you about staying away from (the) election?'" said an election official on condition of anonymity.
According to residents, the attack in Birin Bolawa happened at about 8:30 a.m. (0730 GMT), shortly after accreditation for the presidential election in the country had started, while the second raid in Birin Fulani occurred at about 9:15 a.m (0815 GMT).
People in the oil-rich West African country turned out en masse to vote in a presidential election on Saturday in a close race between incumbent President Goodluck Jonathan and former military chief, Muhammadu Buhari. Parliamentary elections are also being held in the country simultaneously.
Nigerian President Goodluck Jonathan is seen being registered to vote, Otuoke, on March 28, 2015. (© AFP)
Earlier on Saturday, a car bomb targeted a polling station in the south-central state of Enugu. However, no one was hurt in the blast, according to police.
Enugu State Police Commissioner Dan Bature said police forces detonated two other car bombs at the scene, which was a primary school.
Registration for the election began at 8 a.m. (0700 GMT), and voting began at 1:30 p.m. (12:30 GMT).
A total of 14 candidates are competing for the highest office in Africa's most populous nation, which is home to 170 million people.
A woman gets accredited to vote with a biometric system outside a polling station in Gidan Niyam Sakin Yara in Daura in Katsina State, March 28, 2015. (© AFP)
Nearly 360,000 police officers have been deployed across the violence-hit country to provide security for the polls, which had initially been set for February 14 but was postponed for fear of attacks by Boko Haram militants.
Meanwhile, 739 candidates are also vying for a place in Nigeria's 109-seat Senate and 1,780 are competing for the 360-seat National Assembly during Saturday's parliamentary elections.
All of this comes at a time when Boko Haram, whose name means "Western education is forbidden," and controls parts of northeastern Nigeria, has vowed to disrupt the polls.
The Takfiris have claimed responsibility for a number of deadly shooting attacks and bombings in various parts of Nigeria since the beginning of their activities in 2009, which have so far left over 13,000 people dead and 1.5 million displaced.