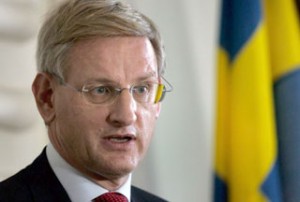 Sweden's foreign minister said Tuesday all parties involved in the Iranian nuclear issue must switch focus from sanctions to diplomacy, a report said.
Carl Bildt, the Swedish foreign minister, told the Eco of Moscow radio that the Iranian nuclear issue could be best resolved through diplomatic means, the Islamic Republic News Agency (IRNA) reported.
Bildt reiterated that his country had not abandoned hope to resolve the issue through diplomacy.
He, however, said that talks were already underway at the UN Security Council on more sanctions against Iran and urged Tehran to sit at the negotiating table to avoid further sanctions.
Iran is already under three rounds of UNSC resolutions for its enrichment program, which, it says, is aimed at the civilian applications of the technology.
US-led calls for more sanctions against Iran have mainly received a chilly response from China, a veto-wielding member of the UNSC, which insists that diplomacy should be exercised regarding the nuclear standoff.
Chinese Foreign Ministry spokesman Qin Gang told reporter on Tuesday that there was "still space for diplomatic efforts, dialogue and consultation."
Iran says any punitive measures against the country are legally baseless as Tehran's nuclear work is being fully monitored by the UN nuclear watchdog.