Economy
Syria and Iran Shorten Timeframe for Signing Free Trade Agreement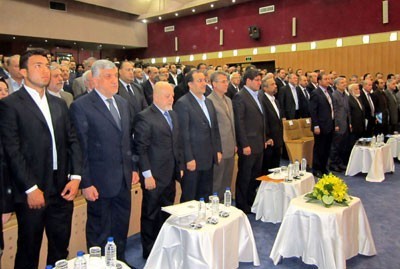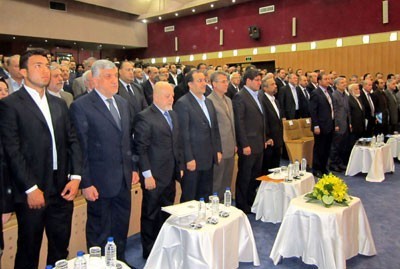 Minister of Economy and Trade Dr. Mohammad Nidal al-Shaar and his Iranian counterpart Mahdi Ghazanfari announced shortening the timeframe for implementing the free trade agreement between the two countries on custom duties, indicating that 4 per cent customs duty is imposed on the products included in the agreement starting from today.
The two sides stressed during the opening ceremony of the Exhibition of Syrian Products in Tehran on Saturday that the exhibition is a significant opportunity to introduce the Iranian consumer to the quality and advantages of the Syrian products, denouncing the economic sanctions against Syria.
The two sides considered that the exhibition is a fruit of the free trade agreement between the two countries, underlining the importance of increasing trade exchange volume and smoothing over obstacles hindering it.
They described the bilateral relations in all fields as strategic, stressing the important role of the businessmen and producers in the two countries to upgrade trade exchange volume.
For his part, the Iranian minister condemned the terrorist attacks targeting the innocent civilians and infrastructure in Syria with Western and regional funding, stressing his country's support and solidarity with the Syrian government and people.
Ghazanfari called all parties in Syria to come to dialogue, stressing his country's support to the reforms announced by the Syrian leadership and voicing Iran's readiness to cooperate with Syria in all fields.
For his part, the Syrian ambassador in Tehran Dr. Hamed Hassan stressed that the exhibition is an important political and economic phenomenon that reflects the will of the two countries in bolstering bilateral relations.
Head of Iran Chamber of Commerce Mohammad Nahavandian stressed the importance of the exhibition in introducing the Syrian products to the Iranian market, considering it an important step in enhancing and developing bilateral economic ties.
The High Committee of Investors in the Free Trade Zones in Syria and Iran submitted recommendations to the two countries' officials, especially on introducing the investment opportunities in the free trade zones in Syria and Iran to the Syrian and Iranian private sectors.
The exhibition is the first since the free trade agreement between Syria and Iran came into effect on March 11.