Human Rights
Syria
Syria- Armed Groups Attack Families in Hama, Terrorist Confesses to Attacking Army and Security Checkpoints in Homs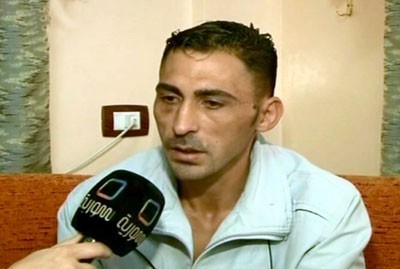 Abdul-Naser al-Ali , son of Ali Terkawi who martyred last September, related the story of the killing of his father and the attack against his family at the hands of the armed terrorist groups in Hama governorate, central Syria.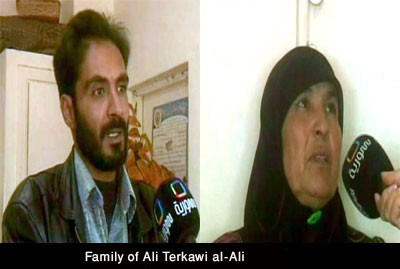 Speaking in an interview to the Syrian TV, Abdul-Naser said that his father was killed on September 29 by a group of gunmen who, 15 days later, came to force the family to film a footage in which they should accuse the security and army personnel of killing his father.
"The footage was to be sent to al-Jazeera TV channel," added Abdul-Naser from Qal'at al-Mdeiq (citadel) in Hama.
"After refusing to film such footage several times," the martyr's son continued, "they called me after midnight and asked us to go a nearby area to shoot a video…At that time I knew we would be attacked and therefore we tried to hide on the rooftop…Five minutes later, a group of gunmen came in two cars to kill us."
"Thank God, when one of the armed men tried to pull out a grenade's trigger, it exploded in his hand killing four of them," Abdul-Naser explained, noting that they recognized one of the gunmen who was from the area, while the others were strangers.
He added that the army forces later came and helped the family get out of the area and move to a safe place . "We were 35 persons including our wives and children."
Abdul-Naser continued that 500 gunmen set fire to their houses, agricultural crops and motorcycles, using a bulldozer they stole from al-Ghab Investment Establishment in al-Karim area to pull down the houses.
"They killed my father because he supports the reform approach in the country…and because we refused to participate in the protests and commit armed acts. We are busy working to secure our livelihood. They didn't like it," said Abdul-Naser , noting that they have been staying at other people's house since the incident.
The martyr's wife called on the authorities to help her family and get rid of the gunmen who spread in the area.
Terrorist al-Dada: We Attacked Army and Security Checkpoints, Weapons Were Coming from Lebanon
Terrorist Ousama Dheir al-Dada confessed to receiving weapons from Lebanon, which the armed groups in Homs used to attack army and security checkpoints, and contacting the satellite TV channels and accusing the army and security personnel of attacking the protesters.
In his confessions broadcast on the Syrian TV on Wednesday, al-Dada, from Bab Sba' neighborhood in the central governorate of Homs, said that he and a group of men used to participate in protests in Bab Sba' and al-Mreijeh neighborhoods in exchange for a sum of SYP 3000 each Friday, in addition to other amounts of money for the rest of the week.
He added that the money was coming from someone called Bilal Audeh, who would come every three days with a bag containing SYP 150,000 to be distributed to the protesters.
Al-Dada confessed that they used to be armed when they went on protests carrying military rifles, grenades and RPG launchers which they got from Bilal, relative of Khaled Audeh who was getting firearms from Lebanon.
"We were asked to go out to the streets with the pretext of protecting the protesters. Then we would open fire at the security and army checkpoints… and we actually did that," said al-Dada, citing the checkpoints which they attacked.
He pointed out that there were other groups of gunmen who were shooting at the protesters to accuse the army and security personnel of the shooting.
The terrorist confessed to trying, along with other men, to attacking a pro-government demonstration near the President roundabout with a huge mine filled with gunpowder and rigged to be triggered by remote control.
"When Mohammad Zahra placed the mine on the car's windowsill to fire it, the mine suddenly exploded…I jumped out of the car and passed out," said al-Dada, noting that he and the group's members were taken to a field hospital they had already prepared in al-Mreijeh neighborhood.
He noted that Bilal Audeh used to provide them with narcotic pills before they go out on the protests.
"After we did our job, Bilal would contact al-Jazeera TV channel with a Thuraya satellite phone to claim that people were going on protests and that the security and army personnel were shooting the protesters causing many injuries and deaths among them…but nothing of that really happened," said al-Dada, adding that Bilal also used to send videos of the protests to the channel.
Citizen Kidnapped by Gunmen and Forced to Tell Lies about Army Personnel
Citizen Shadi Issa from Na'reh village in Talkalakh in Homs, who works as a taxi driver, recounted the details of 14-hour abduction by an armed terrorist group to force him say before a camera that he participated with other ten persons in dispersing "peaceful protesters" through the use of weapons handed to them by army personnel.
Issa said in an interview to the Syrian TV that on November 26 he was blocked by a number of gunmen in a Kia Rio car at al-Kherbeh Bridge, who kidnapped him at gunpoint, with his eyes blindfolded.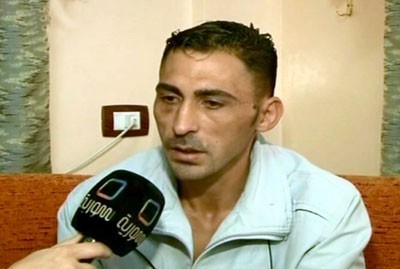 Issa said he was beaten several times by the armed men who gave him a list of ten names and filmed a footage of him in which he was forced to say that he and the other persons named in the list were handed weapons by the army forces to take part in dispersing "peaceful protests" in Talkalakh area.
"Among the things I was forced to say in the footage was that we had destroyed shops and stolen their contents together with members from Hezbollah," he added.
Issa, who was released by the security authorities, pointed out that the kidnappers spoke Lebanese and Jordanian accents, while they were interrogating him in a room in a tunnel where there were 35 to 40 veiled men carrying machineguns, snipers and pump-action rifles.