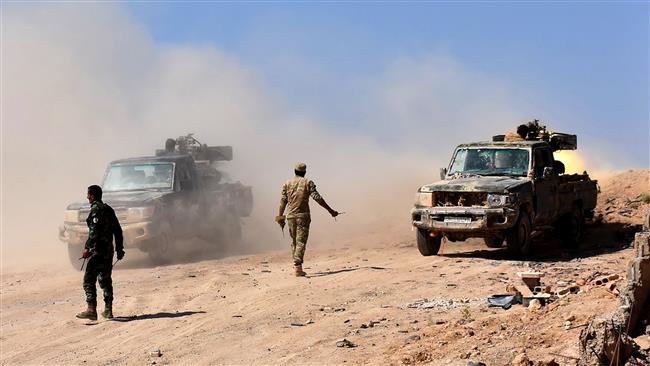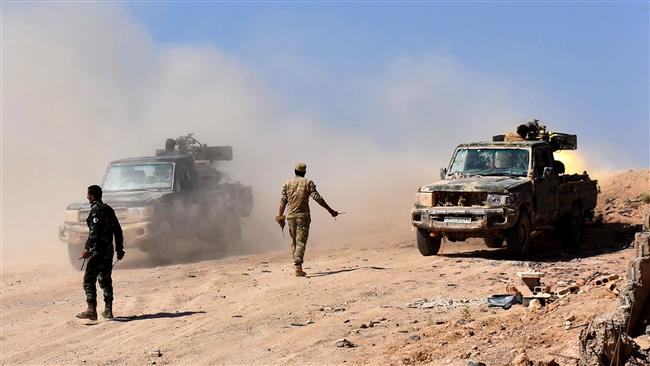 The Syrian Army and its allies have cut Daesh's main supply line in the northeastern city of Dayr al-Zawr.
The victory came after the combined forces pushed the Takfiri terror group out of the al-Jafra district on the western bank of the Euphrates River in the city, Syrian military sources said.
The London-based so-called Syrian Observatory for Human Rights confirmed the conquest, and said the forces had also retaken control of a number of villages near the city's air base overnight.
A Syrian source said Daesh terrorists could now only escape across the river.
"They have no outlet except crossing the Euphrates towards the eastern bank and fleeing towards the desert, or (the towns of) al-Bukamal and al-Mayadin," the source said.
The terror outfit started its campaign of bloodshed and destruction against the Arab country in 2014, taking over vast swathes of territory. It, however, was forced out of much of its turf a year later against Army advances, which have been backed by Russian aerial support, Lebanese Shia fighters, and Iranian military advisory assistance.
Earlier this month, the Syria Army and its allies broke a nearly three-year-old Daesh siege on government-held parts of the provincial capital.
As the combined forces began building on their gains, the so-called Syrian Democratic Forces (SDF), a US-backed group of mostly Kurdish militants, said it was also launching an attack on the province from Euphrates' eastern side.
A commander with the SDF, Ahmed Abu Khawla, said on Friday that the group would not "allow" the Syrian forces to get to the eastern bank of the river.
Russia, however, said Syrian government forces had crossed the Euphrates in their push to liberate the province from Daesh, ignoring a warning by the ragtag group.
Daesh is currently reported to be in control of just a third of the province, the liberation of which would also put a stop to the movement of its terrorists across the common border with Iraq.