Syria
Syria Army Clashes with Takfiris in Homs, Destroys Dens in Zabadani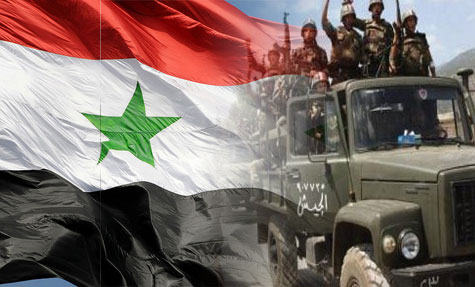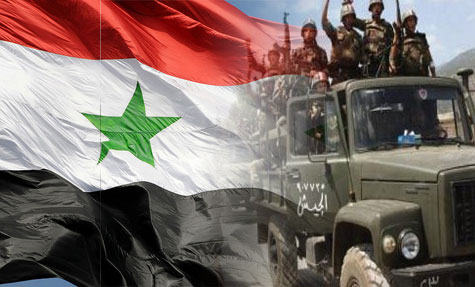 Increasing numbers of terrorists are being killed daily at the Syrian army' hands during continued operations that target their positions all across the country, with many of those terrorists linked to the terrorist organizations of the so-called 'Islamic State of Iraq and the Levant' (ISLIL) and al-Nusra Front, state-run SANA news agency reported.
In Damascus Countryside, an army unit killed a number of terrorists of the so-called "Jaish al-Islam" group in the eastern farms of Zabdeen village in Damascus Countryside.
Another unit destroyed in a special operation two vehicles and a den for al-Nusra Front terrorist organization in northeastern Zabdeen, killing the Jordanian terrorist Abdul-Rahman al-Mouawedeh among others. Those included Ziad Armoush, Sadeq al-Tali, Feras Kanjo, Ghazi al-Hussein, Mustafa al-Dalati and Fares Tabbaa.
A Tunisian terrorist named Nazem Abu Salim and a Lebanese terrorist named Imad al-Sayyad were killed in al- Nashabiyeh area, in addition to terrorists Fouad al-Khen, Suheil al-Sheikh, Naji Haleimeh, who are all affiliated to "Liwa al-Islam" group in Harasta al-Qantara in Harasta city.
An army Unit destroyed two vehicles for al-Nusra terrorists between Hazeh village and Ein Tarma town, killing all the terrorists on board.
Among those were Feras al-Zoubi, Said Nader, Khalifeh al-Samadi, Nader Hourani and Jihad al-Qseir.
On the northern side of Eastern Ghouta, 13 terrorists were killed in clashes which erupted between Units of the army and armed terrorist organizations in al-Rihan farms and Tal Kurdi in northeastern Douma city.
An army unit chased a terrorist group to the east of Shammout auto company and the northern farms of Harasta, killing 5 of its members.
In al-Zabadani city, where the army assumed control of the western mountain chain around it two days ago, units of the army destroyed in accurate operations several terrorist hotbeds in the neighborhoods of al-Seilan and al-Mahatta in the city, leaving 15 terrorists dead or injured, among them Mustafa Tinawi, Bahaa Kharita, Abdul-Aziz Awad and Abdul Latif al-Shamali.
In the western mountains of al-Qalamoun near the border with Lebanon, an army unit destroyed terrorists' dens with terrorists inside in the towns of al-Masherfeh, Flita, al-Jebbeh and Ras al-Maara.
In Homs, units of the army and armed forces destroy terrorist organizations' dens, killing many of their members, in Rajm al-Qasr, Rajm al-Ali, al-Houm, al-Msheirfeh al-Shamaliyeh and al-Rastan in the countryside of the central Homs province.
In Quneitra, an army unit kills a number of terrorists in Mas'hara village and around it and in Rasm al-Khawaled in the countryside of the southern Quneitra province.
In Daraa, the army destroyed a den for terrorists in the area surrounding Busra al-Sham city in the countryside of the southern Daraa province, killing a number of terrorists along with their leaders. More terrorists were killed in the area surrounding the old Customs building and other separate areas in Daraa al-Balad neighborhood in Daraa city.
Units of the army also destroyed two vehicles with terrorists on board in al-Mleiha al-Gharbiyeh and four other vehicles in al-Ghariyeh al-Sharqiyeh and al-Soura in the countryside. Gatherings of terrorists were targeted in al-Lajat area, with many getting killed.
Units of the army and armed forces destroy terrorists' dens, killing many and injuring others, in Koum al-Wawiyat, al-Sheikh Miskeen and southeastern Inkhel town in the countryside.
In Hama, the army carried out intensive operations in various areas in the countryside of Hama province.
Some of those were concentrated in Jana al-Elbawi and al-Eqeirbat in the eastern countryside and Kafar Zita in northwestern Hama. Several vehicles with terrorists on board were destroyed in those areas.
Other army operations took place in the southern and central al-Kastal, Qleib al-Thawr, Hamadi Omar,Jurouh, al-Zakat, Atshan, al-Hamamiyat and al-Rasafeh in the countryside of Hama.
Syria was hit by a violent unrest since mid-March 2011, where the western media reports accuse countries, mainly the USA, Turkey, Saudi Arabia and Qatar of orchestrating the civil conflict in the country and providing terrorist groups with money, weapons and trained mercenaries.
On May 2011, Syrian army launched a wide-scale operation against armed groups and gunmen operating in the country, who started to escape the army blows and infiltrate illegally to Lebanon.