Syria
Syria army continues mop-up operations, kills many militants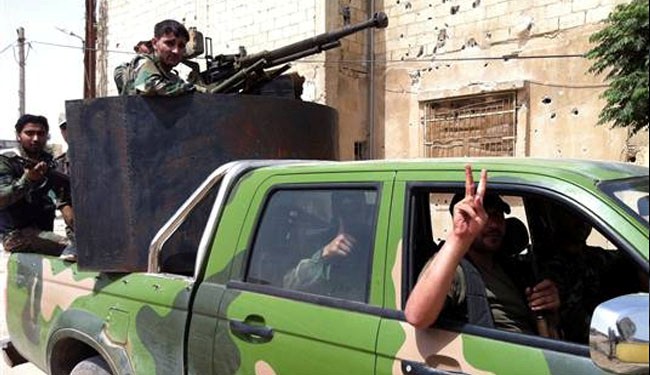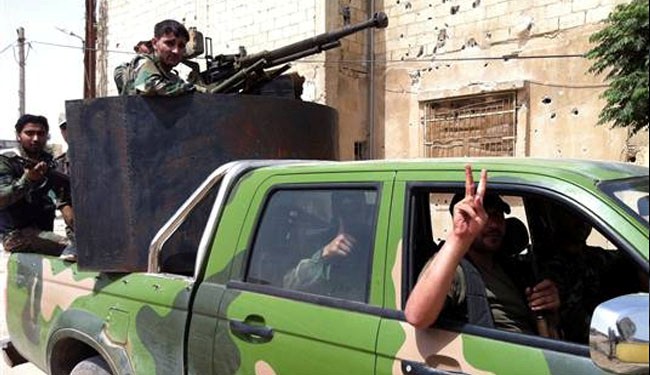 The Syrian army continues its mop-up operations against foreign-sponsored militants across the crisis-hit country, killing many of them.
According to a military source, who spoke on condition of anonymity on Wednesday, the government troops stormed the militants' hideouts in Tishreen oil field and killed several Takfiri militants in Hasaka Province, located about 375 miles northeast of the capital Damascus, official SANA news agency reported.
The army also persevered with its tactical operations against the militants' positions in al-Qaboun area, north of the capital, killing many of them and destroying their weapons and ammunition.
A unit of government forces also killed a number of foreign-backed militants in the town of Daraya, located 8 kilometers (5 miles) southwest of Damascus.
In the city of Douma, located about 10 kilometers (six miles) northeast of Damascus, Syrian soldiers raided a terrorist hideout and shot dead scores of militants.
Syrian forces also destroyed the hideout of armed men in the town of Harasta, which is located northeast of the capital.
The army units also killed members of a militant group that infiltrated into al-Bassel Hospital in Deir-Attiyeh in Damascus countryside.
In addition, Syrian troops engaged gunmen in the town of Yalda. Dozens of gunmen were killed and wounded during the heavy clashes.
Also on Tuesday, the Syrian soldiers succeeded in securing al-Dweireneh town, situated in east of the al-Nayrab airport in the city of Aleppo.
The Syrian forces also regained full control of Qara town in the strategic al-Qalamoun area on the outskirts of the capital.
Syria has been gripped by deadly unrest since 2011. According to reports, the Western powers and their regional allies — especially Qatar, Saudi Arabia, and Turkey — are supporting the militants operating inside Syria.
According to the United Nations, more than 100,000 people have been killed and millions displaced in the violence.
The UN recently warned against the humanitarian situation in Syria, saying that over nine million people are in need of urgent aid due to the crisis in the Middle Eastern country.