Syria
Syria army crush terrorists in Damascus, Aleppo, Idleb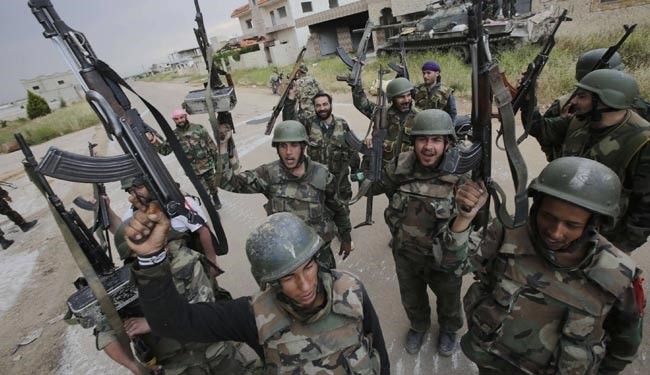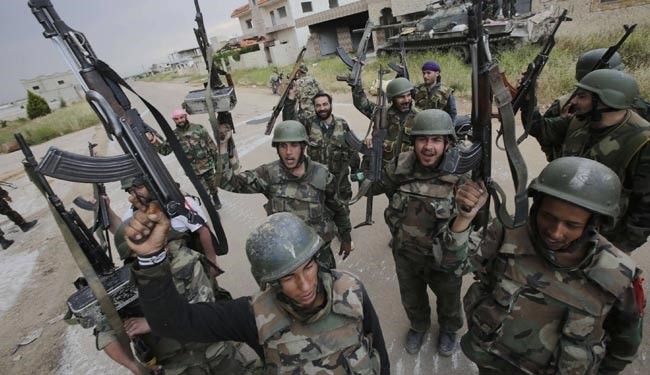 Syrian armed forces have conducted intensified military operations in the outskirts of capital Damascus, Aleppo, Daraa, Idleb and Homs, inflicting severe blows to intruding insurgents and eliminating more of their fortifications and war machines.
In major operations carried out throughout Sunday in various areas located in the outskirts of Damascus, army units thrashed a number of insurgent hiding and staging areas, killing a large number of armed elements, including non-Syrian militants, state news agency SANA reported.
In Daraya City, army units killed at least 15 insurgents and destroyed a number of their hiding spots as well as five vehicles.
In the course of the operations in the area, government troops discovered a field hospital containing quantities of medical equipment and medicines that the insurgents had stolen from the country's public and private health centers.
Meanwhile, the leader of a terrorist group affiliated to the al-Qaeda-linked al-Nusra Front was killed along with a number his forces in the town of Bouqein.
Further in Eastern Ghouta region, Syrian troops clashed with armed terrorist groups affiliated with al-Nusra Front in areas surrounding the town of al-Mleiheh and near Tameco medical company.
"The operation led to the killing of the leader of the insurgent group identified as Mohammad Abdul-Fattah and a number of his forces, including a Saudi national."
Several more operations were carried out by Syrian army units in Joubar neighborhood in which a number of insurgent hiding spots were discovered and destroyed along with their weaponry and ammunition. Numerous members of two militant groups operating in the area were also killed.
SANA further cited a military source as saying that the army units targeted insurgent staging areas near Khan al-Subol town and Talteteh village located in Idleb suburbs, killing and injuring scores of them, in addition to destroying their military hardware, including sophisticated listening devices.
In areas surrounding the city of Homs, meanwhile, government forces targeted militant staging spots in al-Rastan, Talbiseh, Hosh Hajjo, al-Dweir al-Shamali and al-Nassiriyeh, killing many insurgents and injuring others.
Also in Daraa countryside, army units destroyed insurgent groups' vehicles, weaponry and ammunition.
A military source was further cited as saying that Syrian forces also targeted insurgent hiding spots southwest of al-Yarmouk Suburb, to the west of Sajna, in the area surrounding al-Masri roundabout in al-Manshieh neighborhood of Daraa city, killing many armed militants and destroying one of their armored vehicle with militants still inside.
According to the source, army units also destroyed a tunnel that was used by intruding armed groups to wage attack on government installations in al-Kark area, killing numerous insurgents.
Other army units in the area further destroyed two mortar launchers and a vehicle equipped with a machinegun, in addition to several other militant vehicles on the road of al-Yadouda town, to the west of Atman town and in the surrounding area of Jadal village in al-Lajat area.
Syrian military source further stated that an government troops confronted armed intruders to the west of al-Zahraa neighborhood and Alleramoun factories in Aleppo city, killing and injuring all the intruding elements.
Syrian army units also killed or injured numerous insurgents in the villages of Marea, Handarat, Khan al-Assal, al-Mesilmiyeh, Daret Ezza, Anadan, Ezzan, Ba'idin, Kafer Naha, Maaret al-Artiq, the industrial city and surrounding the central prison in Aleppo countryside and destroyed their military equimpment.