Syria
Syria army eliminates more terrorists in several areas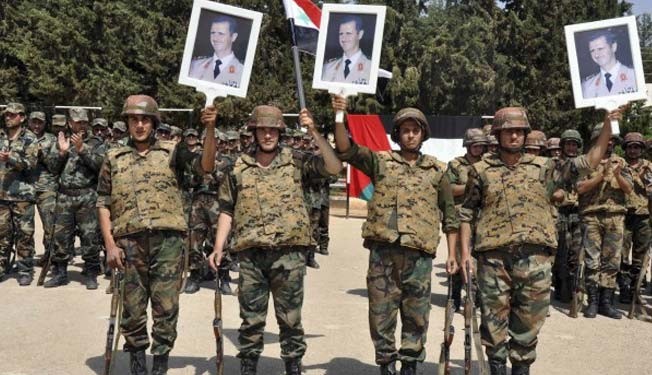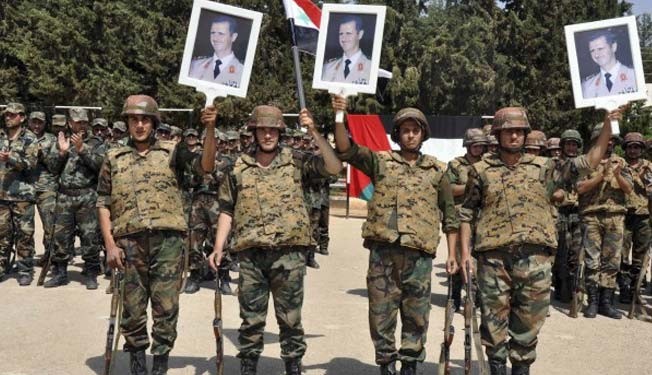 The Syrian army have killed more foreign-backed militants who have been wreaking havoc across the country and committing crimes against civilians, during military operations.
On Wednesday, an army unit dismantled an explosive device planted by militants on al-Basheriyeh roundabout in al-Qamishli city, northeast of the country.
A military source said the explosive device weighed almost 5 kilograms and that it was set to be detonated remotely.
In the northern province of Aleppo, an army unit destroyed a weapon and ammunition cache in Hreitan, killing all the militants there.
Another army unit killed more than 25 militants in Kherbet al-Mashir, the military source said, adding that militants' gatherings in Tal Sosin, Tal Refaat, Handarat, Tal Jabin, the industrial city, Atareb, Kafar Hamra and al-Kastello were targeted, killing many militants, injuring others and destroying their weapons.
Other army units destroyed vehicles, killing all militants inside in Kweiris, Rasem al-Addoud, al-Jdeideh, Old Aleppo, Bani Zaid, al-Rashideen, al-Lairamoun, al-Ameriyeh, Bab al-Hadid, Bustan al-Qaser, Andan, the Free Zone, Hreitan, Kafar Dae, Khan al-Asal, al-Jandoul and Hanano.
An army unit foiled a militants' infiltration attempt from Talbisa towards al-Molouk point, inflecting heavy losses upon the militants, as another unit also foiled an infiltration attempt towards Tal al-Ansar in Homs countryside, killing many of the militants.
A military source in the province said that other army units targeted gatherings of armed militant groups in al-Khattab, Onq al-Hawa, Ard al-Sheikh Ibrahim al-Hakim, al-Ghajar and Khalij Keesin, killing many militants and injuring others.
The source pointed out that a big number of militants were killed or injured in al-Khalidiyeh, al-Dweir, al-Dar al-Kabira, al-Ghassibiyeh villages.
In Damascus Countryside (Rif Dimashq), the army eliminated militants, some of them Saudis, and destroyed their hideouts north of al-Mleiha, in addition to eliminating militants near the town of al-Qasimiyeh in Eastern Ghouta.
In Douma area, the army destroyed a militant gathering in Aaliya farms, while a series of operations were carried out in Jobar, resulting in the death of scores of militants.
The army discovered a 150m-tunnel that links Douma farms with Harasta Highway in Damascus Countryside. The tunnel, which was equipped with lights and ventilation, was destroyed by the army and two militants inside of it were arrested.
A number of militants' hideouts were destroyed in the town of al-Zabadani, while army units pursued militant groups near Khan Danoun camp and the town of Kanaker in al-Kisweh area, resulting in the death of many militants. Clashes between the army and militant groups in the town of Daraya resulted in the death of many militants.
An army unit destroyed a militants' gathering in Naheta in al-Hrak in Daraa, killing eight militants including the Jordanian nicknamed Abu Khattab from the militant al-Nusra Front group.
Army units targeted armed militant groups in Tal al-Allaqiyeh- Tal Antar axis, in al-Hwejat, Kherbet Hamman, al-Waara and al-Najed farm, killing many militants and injuring others, as they destroyed a militants' vehicle with all the militants inside in Atman town in Daraa province.
Army units confronted armed militant groups in the area surrounding Bilal Mosque that attempted to attack military checkpoints, inflicting heavy losses upon the militants.
Other army units targeted militants' gatherings in Beer Om al-Daraj and the surrounding area of Garaz prison in Daraa city.
An army unit confronted a militants' attempt of attacking a military checkpoint in Maar Hattat in Idlib province, inflicting heavy losses upon them.
A military source said that army units targeted militants' gatherings in Jefetlik Haj Hammoud, Adu al-Zobeir, Bales, the surrounding area of al-Arbaen Mountain, Maar Baalit, Mantaf and Kafar Lata in the countryside of the province, killing many militants and injuring others.
Syria sank into war in March 2011 when pro-reform protests turned into a massive insurgency following the intervention of Western and regional states.
The unrest, which took in terrorist groups from across Europe, the Middle East and North Africa, has transpired as one of the bloodiest conflicts in recent history.