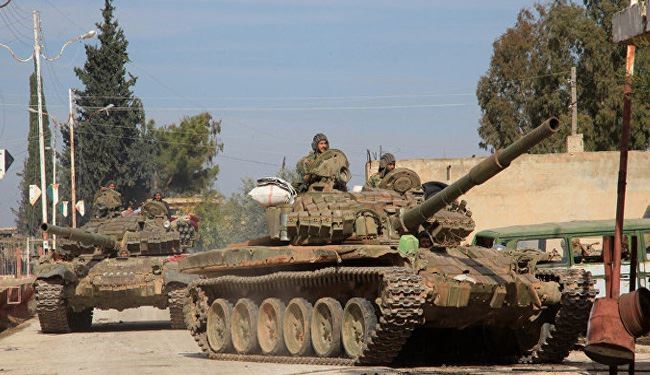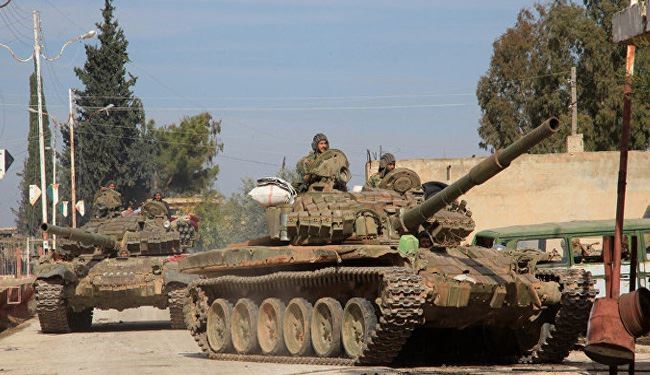 The Syrian Army backed by the National Defense Forces (NDF) took several areas in the Northern parts of the coastal province of Latakia.
The army and NDF seized Shir al-Masira hilltops, Ravisa al-Qora'a and Ravisa al-Naba'a from Jeish al-Fateh terrorists in Northern Latakia.
The Syrian forces also purged terrorists from Beit Fares village, Beit Fares mountains and also Al-Qasb and Borj al-Qasb villages.
Earlier today, the Syrian troops and their popular allies continued to advance against the militant groups in the mountainous regions of Latakia and recaptured another strategic village near the border with Turkey, the army announced Wednesday.
"The Syrian army and the National Defense Forces struck al-Nusra and the Free Syrian Army (FSA) again; this time at the nearby village of Beit Fares, which is situated directly West of Qassab and East of Jabal al-Zweik (Al-Zweik Mountains)," the army said.
"Following the initial assault, the Syrian army troops and their allies pushed back the militant group and retook full control over Beit Fares village, killing over 20 enemy combatants and seizing several assault rifles," the army added.
Military analysts believe that the eye-catching victories of the pro-government forces against the militant groups in the mountainous regions of Lattakia in winter time are indebted to the strong will of the Syrian soldiers, the National Defense Forces and Hezbollah fighters to route out militancy and terrorism in the country.
On Tuesday, the Syrian army and the NDF captured a new strategic height near the border with Turkey.
"The pro-government forces drove back the militant groups from their positions near the Height 1044 and won back the height and its surroundings," the sources said.
"Scores of the militants were killed or wounded and their military grid sustained heavy damage in the liberating operation of the height near border with Turkey," the sources added; FNA reported.