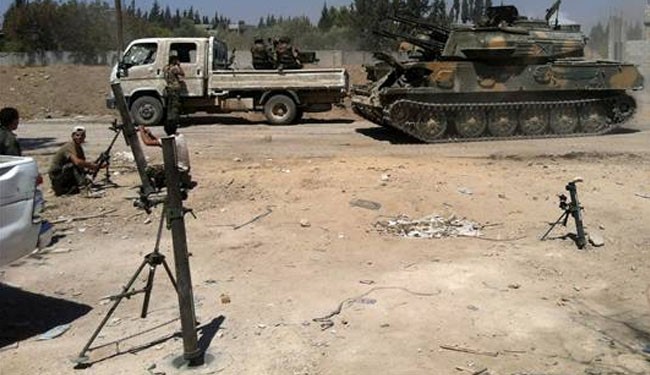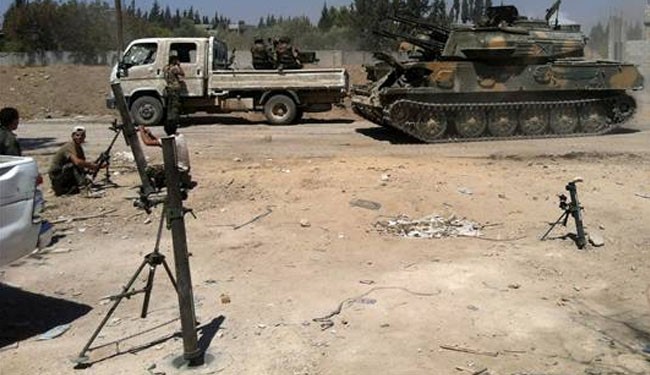 The Syrian army is pushing ahead with its mop-up operations against foreign-sponsored militants operating across the country.
According to military sources, who spoke on condition of anonymity on Tuesday, the army continued its clean-up operations in Adra in the countryside of the capital Damascus, killing seven militants, official SANA news agency reported.
Elsewhere, in Douma, the government troops stormed the militants' hideouts and killed a number of them. The government forces also killed a number of militants in Yelda and Daraya in the southern countryside of the capital.
The Syrian army units carried out similar operations against the militants near Qastoun al-Sharqiyeh in Jsir al-Shoghour and near Maar Tamsarein, in the countryside of the northwestern city of Idlib, killing 46 of them.
The Syrian soldiers also killed a large number of the militants during their mop-up operations in Aleppo and its countryside.
In recent weeks, the Syrian army has made major advances in its fight against the armed groups.
Syria has been gripped by deadly unrest since 2011. According to reports, the Western powers and their regional allies — namely Qatar, Saudi Arabia and Turkey — are supporting the militants operating inside Syria.
A recent British defense study showed that about 100,000 militants, fragmented into 1,000 groups, are fighting in Syria against the government and people.
The extracts of the study by defense consultancy IHS Jane's were published on September 16, 2013.
IHS Jane's estimates that some 10,000 militants are fighting for groups affiliated with al-Qaeda and the rest fight for different militant groups.
According to the United Nations, more than 100,000 people have been killed and millions displaced in the foreign-backed militancy.