Syria
Syria army mop-up operations continue across country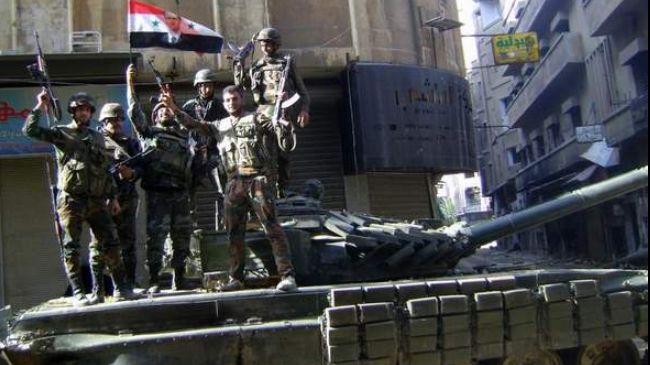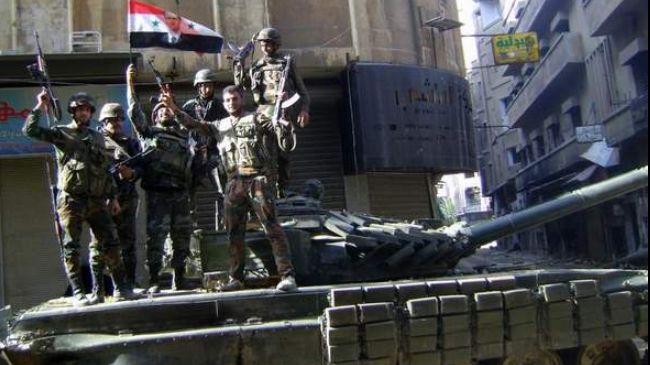 The Syrian army is pushing ahead with its mop-up operations to clear foreign-sponsored militants fighting against the government from different areas across the country.
On Wednesday, the army continued its clean-up operations in Kansafra village in Idlib, killing a large number of the militants.
Elsewhere, the Syrian army attacked militants' hideouts in the towns of Taldo, Ghajar, al-Saan and the villages of al-Dar al-Kabira and al-Khalediyeh in Homs countryside, killing a number of the militants.
The army destroyed several vehicles equipped with weapons and ammunition in al-Dar al-Kabira.
The Syrian troops also killed 34 militants in Kherbt Hamam and Beit al-Agha.
Furthermore, a number of the militants were killed by the Syrian troops in Daraa city.
On Tuesday, the army killed scores of the militants across the country.
On Monday, the Syrian army issued a statement, saying the country's armed forces in cooperation with the National Defense Forces have gained complete control over al-Nakkarin, al-Zarzour, al-Taaneh, al-Subeihieh and Height 53 in the eastern countryside of Aleppo city.
Syria has been gripped by a deadly conflict since 2011. According to reports, the Western powers and their regional allies – especially Qatar, Saudi Arabia and Turkey – are supporting the militants operating inside Syria.
According to the United Nations, more than 100,000 people have been killed and millions of others displaced due to the violence in Syria.