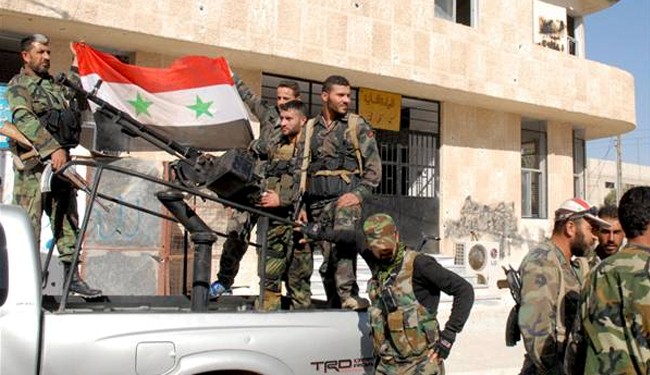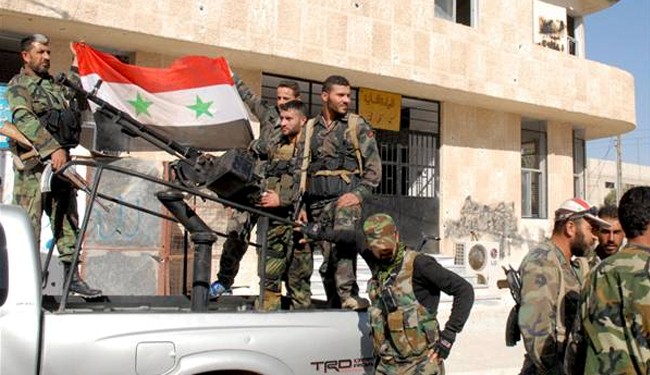 Syrian army units have attacked hideouts of terrorists in a series of mop-up operations in al-Nabek and Deir Attiyeh suburbs of the capital, Damascus.
A number of most notorious terrorists including Ahmad al-Ersali and Mustafa Mustafa were killed in the operations, the army says.
An army unit also destroyed a terrorist hideout in Rima farms in Yabroud, killing at least 12 terrorists and injuring 22 others, SANA news agency reported.
In the Eastern Ghouta, army units carried out a series of operations which resulted in killing the leader of a terrorist group named "Ibn Taimiye Battalion" and a terrorist nicknamed "Abu al-Khattab" who was the ringleader of the militant group of "the Immigrants Battalion" along with other terrorists.
In Deir Salman farms, a number of terrorists were killed in a separate operation.
Syrian troops also eliminated terrorist leader Ammar Kheti near the town of al-Jarba.
Syria has been gripped by deadly unrest since 2011. According to reports, the Western powers and their regional allies — especially Qatar, Saudi Arabia, and Turkey — are supporting the militants operating inside Syria.
Syria crisis started as pro-reform protests but with interventions by the United States, UK and their regional and western allies it soon turned to a massive insurgency which took in numerous terrorist groups from all over Europe and the Middle East to wage one of the bloodiest wars the region in the recent history.
According to the United Nations, over 100,000 people have been killed and millions displaced in the violence.