Syria
Syria Envoy: UN's Ban Slandering Damascus, UN Resolution Biased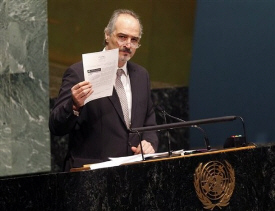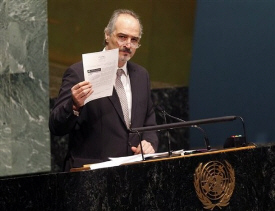 Syria has criticized a recent resolution passed by the United Nations against Damascus as "erroneous, unilateral and biased."
The resolution was "completely unrelated to what is going on the ground in Syria," said Syrian Ambassador to the UN Bashar Ja'afari in an address to the UN General Assembly in New York on Friday.
The United Nations General Assembly on February 16 passed an Arab League-sponsored resolution on Syria over what it called the government's crackdown on opposition protests.
A total of 137 members of the UN voted in favor of the resolution while 12 members including Iran, Russia and China voted against it.
Ja'afari went on to slam the US and some Arab countries for openly talking of arming the Syrian opposition. He said that Syrian security forces managed to find arms caches mostly containing Israeli weapons in Homs after taking control of the restive town from armed groups.
Ja'afari also rejected recent remarks by UN Secretary General Ban Ki-moon on the Syrian government as "extremely virulent rhetoric that confines itself to slandering a government based on reports, opinions or hearsay."
The reaction came after the UN chief accused Damascus of failing to protect its people and urged the Syrian government to grant aid workers immediate access to restive areas.
"We continue to receive grisly reports of summary executions, arbitrary detentions and torture," Ban said.
"This atrocious assault is all the more appalling for having been waged by the government itself, systematically attacking its own people," the UN chief added.
In response, Ja'afari stressed what he called his "long friendship" and "personal respect" for the UN secretary general but he said "a sea of lies" was being told about Syria.
Jaafari noted that Ban's report "leans more toward increasing tensions than working toward a solution," adding that the false allegations "come from the opposition or from people who are abroad or people who are living in countries which are open enemies of Syria."
Jaafari also denied that his government had refused to let UN humanitarian chief Valerie Amos into the country. He said Damascus was waiting to set a date for the visit.
"The secretary-general is not duly informed," he said, reiterating that the Syrian opposition consisted of "armed terrorist groups" who use civilians as "human shields."
The ambassador hit out at Libya for offering $100 million to help Syrian opposition groups and at Saudi Arabia's UN envoy who gave a speech comparing events in Homs to the Srebrenica massacre in Bosnia in the 1990s.
The Syrian envoy offered a proposal that "we send forces from Arab and Islamic states to the Saudi Arabia to protect the oppressed people in the region of Qatif, and that Saudi Arabia withdraw its military forces form Bahrain, which attack the right popular demands of the Bahraini people."
Jaafari called Ban's speech "shameful" and added: "I hope not to be provoked further, because we have a lot to say which unfold some regimes in the Arab countries and beyond."