Syria
Syria forces ambush insurgent positions, inflict blows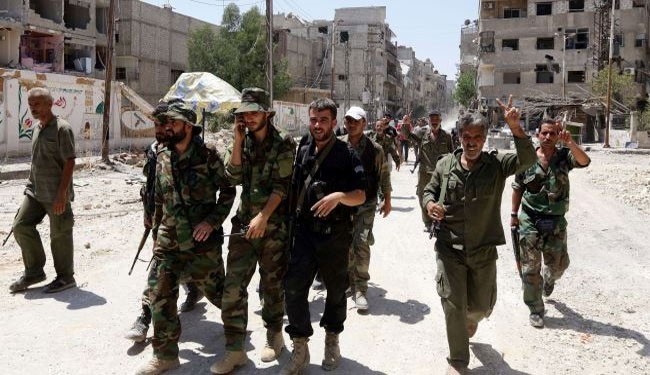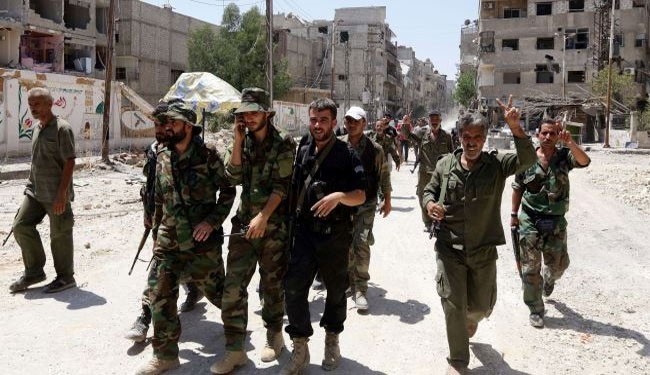 Syrian armed forces have conducted new operations against intruding foreign back insurgents across the country inflicting heavy blows on the armed elements and thwarting several of their infiltration attempts into safe areas.
During the Sunday operations, army units in the outskirts of Homs foiled an armed intrusion effort by insurgents from Hush Hajjou into the secure areas in Hush al-Agha in Talbeisa and between al-Batma and al-Muhasham villages, killing and injuring a number of the intruders, Syrian state news agency SANA reported.
Army units also targeted insurgent staging areas in Jisr al-Kharab in al-Wa'ar and in the surrounding of the electricity station in al-Dar al-Kabira, and in Fau Shawish village, in Salam Sharqi, Ruhum and al-Musheirfa, eliminating many armed elements and destroying their equipment.
A large number of terrorist elements were also killed and injured by government troops in Taldo, Burj Qa'ai, al-Sama'alil in al-Hula countryside and in al-Shajara farm in Palmyra in Homs countryside, destroying their weaponry and ammunition.
This is while in Damascus and Quneitra suburbs, army units further killed and injured many more insurgents in a series of operations carried out in the two regions.
Scores of armed terrorists were killed in Khan al-Shih and its farms and on the crossroads of al-Mir river- Beit Jin farm and on the road of al-Abbasieh in Damascus countryside where a number of their vehicles were also destroyed.
In Quneitra countryside, army units killed and injured numerous insurgents after targeting their staging grounds in al-Samadanieh, Atabat Fouad and al-Khazrajieh, also destroying their military hardware.
Meanwhile in the outskirts of Aleppo, Syrian troops targeted insurgent staging areas, killing and wounding a number of their forces.
More insurgents were also eliminated in the area of Air Force Academy, the central prison, Haritan, al-Eyoun, Mare', Minnig, Hour al-Naher, al-Hawwoz, Mnbij, Enjarah, al-Rashideen4, Africano and Zaido fuel station in Aleppo and its countryside.
Also in Daraa countryside, army units killed a number of intruding terrorists, destroying their weaponry, ammunition and vehicles.
Army units also ambushed insurgent staging grounds in the towns of al-Museifra, Bosra al-Sham, Ma'araba, al-Jiza, Da'el al-Nu'aima, Enkhil, Ataman and in the surrounding of Tal Arar, and to the north of Tal al-Khudir in Daraa countryside where many of the armed militants were killed and wounded as their vehicles and ammunition were destroyed.
Meanwhile, in Hama's northern suburbs an army unit thwarted an attempt by a terrorist group affiliated with the al-Qaeda-linked al-Nusra Front to sneak from the town of Hilfaya towards the town of Mhardeh, leaving the group's members either dead or injured.