Syria
Syria: Gov't Troops Continue to March on Terrorists' Positons in Eastern Sweida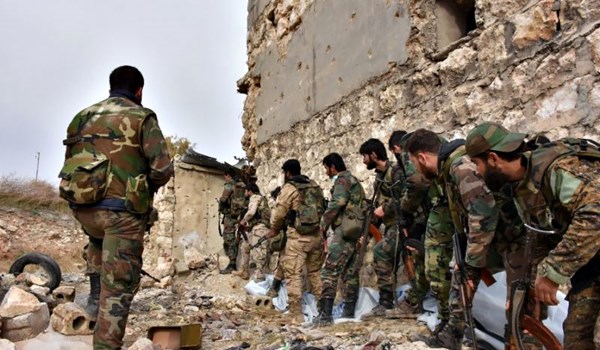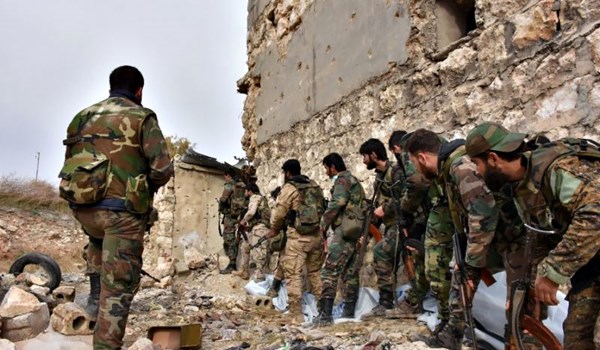 The Syrian Army troops continued to hit terrorist groups' positions in Eastern Badiyeh (desert) and seized control over several key areas.
The army soldiers engaged in fierce clashes with terrorists in al-Bohouth al-Elmiyeh region in Eastern Badiyeh of Sweida and pushed militants out of more regions.
The army units also started battle with terrorists in the Southeastern direction of Tal (hill) al-Zalaf, killing a number of militants.
In the meantime, the army's artillery and missile units opened heavy fire at the positions of a groups of ISIL terrorists in Northeastern Sweida along a road connecting the two towns of Rajm al-Dowleh and Sabreh Olya, killing the entire members of the group.
Military sources confirmed earlier today that the army troops continued their advances against terrorists in Eastern Sweida toward the key al-Tanf border-crossing with Iraq, adding that a US army drone was also targeted by the army men.
The army soldiers engaged in fierce clashes with terrorists and managed to capture the Mahjoureh (missile) Battalion base Northwest of Zaza region 11km away from Sweida Badiyeh.
A military source reported, meantime, that the army forces after advancing in the missile battalion region managed to drive terrorists out of several hills in areas surrounding the al-Bohouth al-Elmiyeh region that covers an area of 5sq\km.
The source also said that the Syrian soldiers downed a US drone over Badiyeh region in Zaza.