Syria
Syria humanitarian relief efforts increase despite failed talks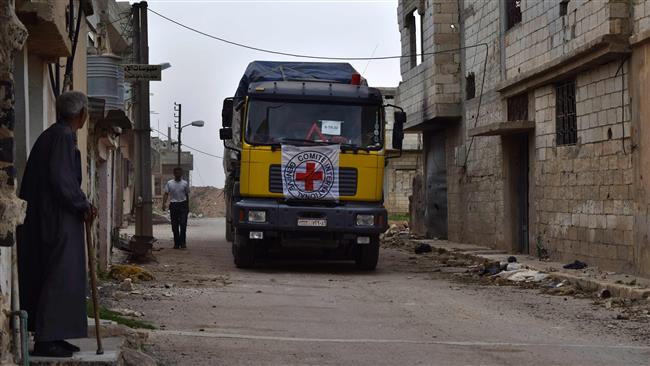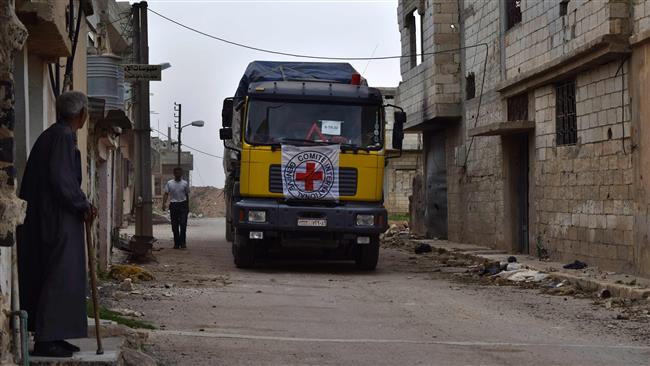 Aid groups have started their largest campaign to deliver humanitarian aid to people affected by more than five years of foreign-sponsored militancy across Syria, though UN-backed Syria peace talks in Geneva have failed to yield encouraging results.
Shipments of medical and food supplies were delivered to 120,000 people in and near the militant-held town of Rastan, located 25 kilometers (16 miles) north of Homs, on Thursday.
The International Committee of the Red Cross (ICRC) said the aid, which was delivered in coordination with the Syrian Arab Red Crescent and the United Nations, included items for the provision of safe drinking-water.
ICRC spokesman, Pawel Krzysiek, said it was "the largest joint humanitarian convoy we have done in Syria so far," adding, "More aid should be delivered in the coming days."
"The people have suffered terribly," said Majda Flihi, the leader of the ICRC team in Rastan.
"Peoples' livelihoods, especially farming and raising livestock, have been severely affected. Damage to the town's irrigation infrastructure has made the situation even worse," she added.
UN special envoy to Syria Staffan de Mistura also hailed Thursday's aid deliveries as "modest but real progress."
"If humanitarian aid increases, as there should be, and the cessation of hostilities goes back into what we consider a hopeful mood, that would certainly help the political discussions," he said.
The developments came only three days after the Saudi-backed opposition group, High Negotiations Committee, left the latest round of the Syria peace talks, which began in the Swiss city of Geneva on April 13, to protest at what they called the Damascus government's truce violations.
The truce, brokered by the US and Russia, went into effect on February 27 across Syria to pave the way for a political solution to the crisis in the Arab country. The ceasefire agreement does not apply to Daesh Takfiris and al-Nusra Front terrorists.
According to a February report by the Syrian Center for Policy Research, the conflict has claimed the lives of over 470,000 people, injured 1.9 million others, and displaced nearly half of the pre-war population of about 23 million within or beyond Syria's borders. The observatory, however, puts the number at about 270,000.