Syria
Syria in Last 24 Hours: Army Recaptures Strategic Town in Hama Province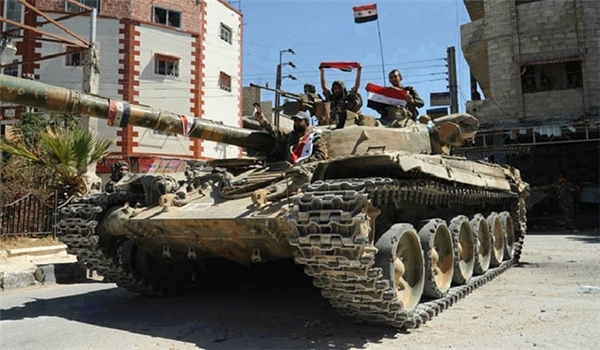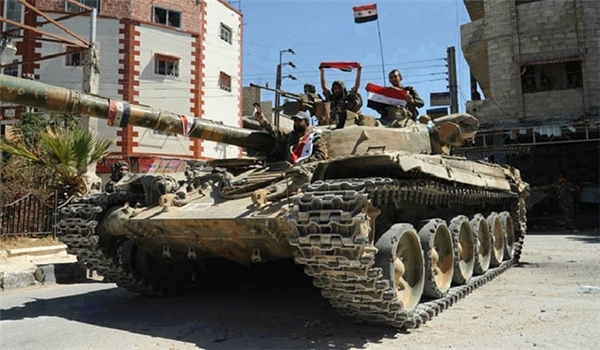 The Syrian army seized back the strategic town of Helfaya in the Central province of Hama from the Al-Nusra Front terrorists after heavy clashes.
Military sources in the region told FNA that over 1,500 Al-Nusra Front militants have fled to other nearby villages.
Also in the past 24 hours, Syrian military sources announced that Al-Dukhaniye district in Eastern Damascus has come under full control of the army.
The sources also said that the army was tightening the siege of Joubar in Damascus countryside.
In Joubar, the army killed and injured many terrorists, and targeted a long convoy of their vehicles loaded with weapons and ammunitions.
A military source said that the Syrian soldiers stormed the hideouts of the militants in Kanaker, Beit Jann, al-Dukhaniye, Joubar and al-Qalamoun in the countryside of Damascus.
Scores of Syrian and non-Syrian militants, including Riyad al-Qasir, Fadi Laqis, Mohammad al-Samadi, Abdullah al-Matiri (from Saudi Arabia), Jamal Baidoun, Mohammad Saqraq were eliminated in the operations.
Heavy clashes broke out between army troops and rebels of the Al-Nusra Front in Ein Tarma and the surrounding of al-Dukhaniye in Damascus Countryside, where large groups of rebels were killed and wounded.
Al-Dukhaniye neighborhood was also the scene of heavy clashes between army troops and members of the so-called "Islamic Brigade" in which several rebels were killed, including its commander Mazen al-Na'al.
Meantime, experienced commandoes of the Syrian army staged massive operations against gathering centers of militants in towns, villages, and neighborhoods of Aleppo and its countryside, and inflicted heavy losses upon them.
A large number of militants were killed, wounded and arrested by Syrian troops in Anadan, al- Jaboul, Balat, Fafeen, Babis, Akhtareen, al-Mansoura, Kfar Naha, Khan al-Assal, Kfar Hamra, al- Layramoun and the area surrounding al-Kindi Hospital in Aleppo.
The Syrian Army also carried out a series of operations in Aleppo countryside, claiming the lives of a large number of rebels in Hamimeh, Retya, al-Ashrafiyeh, al-Bab, Kafr Hamra, Qubtan al-Jabal, Khan Touman, al-Ramouseh, and Bani Zaid.
Elsewhere, the Syrian armed forces carried out a series of fresh operations against the rebels in the countryside of Lattakia, and killed and wounded a large number of the militants.
A military source said that so many rebels were killed and wounded in army's operations in the Northern countryside of Lattakia province, in the villages of al-Durra, al-Rehania, Burj Zahi and al-Kouz Mountain.
Meantime, the Syrian troops won the battles against foreign-backed insurgents in the countryside of Idlib and Homs, where rebels left so many killed and injured members behind and fled the battlefront.
Syrian army started massive operations against militants in Nahliyeh, the surrounding of Jabal al-Arba'een, Shnan, Maaret al-Numan and Harbanoush in the countryside of the Idlib province, killing, wounding and arresting too many rebels.
Meantime, a long convey of militants' vehicles loaded with ammunitions were targeted by the brave Syrian soldiers who killed many and arrest some fighter in Breikat Beer al-Ajam, Um Batina , Mashara, Rueihina, al-Swaisa, Ain al-Tina and Mumtana in the outskirts of Homs central province.
Also, several militants were killed by Syrian commandoes in Majdoulia, Deir Makir, Khirbat al-Sultanieh, al-Tihina, al-Hija, Aqraba and Nabi'a al-Sakhr.