Syria
Syria in Past 24 Hours: Army Reinvigorates Aleppo Front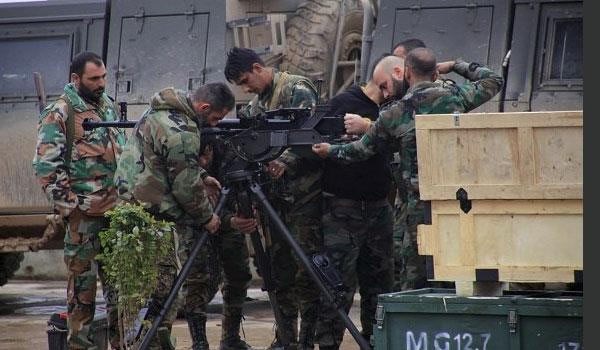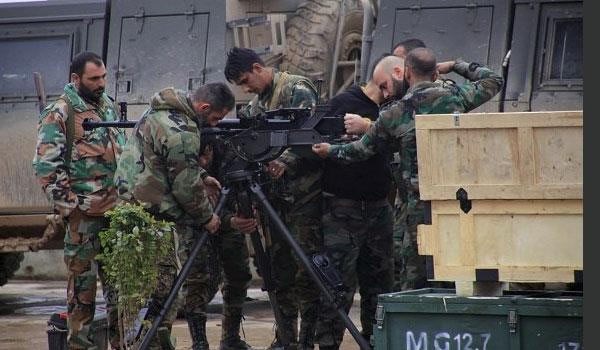 The Syrian Army dispatched a large number of fresh forces and military equipment to the Eastern parts of Aleppo province to start a new phase of anti-ISIL operations in the region.
Aleppo
Syrian Army troops continued their advances against ISIL in Eastern Aleppo near the terrorist-held town of al-Bab, capturing two more small but key towns in the region.
The army soldiers engaged in several-hours-long clashes with the ISIL and took full control over the towns of al-Kharabshe and al-Sha'aleh.
The army men also clashed fiercely with ISIL terrorists that had attacked government forces' positions in Khanasser hills in Southeastern Aleppo from Um Mayal direction, killing and wounding a number of them and repelling their attack.
Also in the past 24 hours, a large number of Syrian Army's fresh forces and a large volume of military equipment have arrived in the Eastern parts of Aleppo province to reinvigorate government forces for a new phase of anti-ISIL operation in the region.
A military source disclosed Wednesday that a convoy of fresh forces and equipment of the army has arrived in Eastern Aleppo to take part in an imminent anti-ISIL operation in the regions surrounding the towns of al-Bab and Deir Hafer in next few days.
The army's Special Forces have liberated over 20 regions from ISIL only after a few days of attacks East of Aleppo province.
The military source went on to say that the army is now in direct contact with the Turkey-led Euphrates Shield Operation's forces after the liberation of 20 region in Eastern Aleppo by its special forces.
Also on Wednesday, the ISIL's emir in the city of Manbij in Aleppo surrendered himself to the predominantly Kurdish Syrian Democratic Forces (SDF), battlefield sources said on Wednesday.
"Abu Abdollah, the ISIL's Bahraini emir of Manbij city, is now in SDF's custody after he surrendered to the Kurdish fighters in the town of al-Khafaseh to the South of Manbij city," a battlefield source said.
The source went on to say that the ISIL's emir intended to spare himself from the ongoing battle between the ISIL and the SDF fighters.
The security emir and commander of the ISIL terrorist group in the Eastern part of Manbij was killed in a tough battle with the Syrian Democratic Forces in late July.
Abu Aisha with Turkish nationality alongside four more ISIL members were killed in fierce clashes with the SDF fighters near al-Daleh square.
Deir Ezzur
Syrian and Russian fighter jets carried out massive bombing raids on ISIL positions, and movements in the outskirts of the Eastern city of Deir Ezzur, inflicting major casualties on the terrorists.
The warplanes hit heavily ISIL's movements and gatherings in Deir Ezzur's cemetery, al-Ma'amel (factories) region and al-Makbat region in the Southern outskirts of the city, near al-Ta'amin brigade and Jonayd Division in the Southwestern outskirts of the city and the neighborhoods of Jadideh al-Akiat and Khashm in the city, killing and wounding a large number of terrorists.
The fighter jets also pounded ISIL's defense lines in the neighborhoods of al-Roshdiyeh in Deir Ezzur and the village of al-Baqaliyeh in the Western outskirts of the city, leaving a number of militants dead.
The Syrian aircraft targeted a convoy of ISIL on a road connecting the ancient city Palmyra (Tadmur) in Homs to al-Shoula, destroying seven military vehicles.
Also in the past 24 hours, ISIL suffered heavy casualties and its military hardware sustained major damage in two failed attacks on Syrian Army troops' positions in Deir Ezzur's military airports.
The army men engaged in heavy fighting with ISIL terrorists that had approached the Eastern wall of Deir Ezzur airbase, inflicting major casualties on them and repelling their attack.
The army soldiers also engaged in fierce clashes with ISIL attackers on al-Jafrah-Beit Daqim road to the North of Deir Ezzur airbase, killed or wounded a number of them and warded off their attack.
The army troops, backed up by warplanes, targeted ISIL's gatherings and movements in al-Maqaleh, West of Tal Borouk, al-Thardah mountain and al-Tayem oilfield, killing several militants and destroying three vehicles.
Media sources said that the ISIL has burned the bodies of a number of its dead forces in Deir Ezzur's cemetery, adding that the burnt militants have most likely been foreign nationals.
Also on Wednesday, Russian long-range bombers continued airstrikes on ISIL targets in Syria's Deir Ezzur, the Russian Defense Ministry said.
Six Russian long-range Tu-22M3 bombers launched airstrikes on two ISIL's control centers, as well as arms and ammunition depots and hardware in Syria's Deir Ezzur.
"Means of objective control confirmed that all designated targets had been successfully destroyed," the statement said.
The Russian Defense Ministry said that the Tu-22M3 long-range bombers took off from an airfield in Russia and flew over the territory of Iraq and Iran.
"Su-30SM and Su-35S provided air cover to the Russian bombers from the Hmeimim airbase."
After successfully completing their combat mission in Syria, the Russian jets returned to Russia.
Idlib
Media sources disclosed on Wednesday that Fatah al-Sham Front (formerly known as al-Nusra Front) is marching on the positions of al-Shamiyeh Front, Faylaq al-Sham and Jeish al-Mujahedeen in Western Aleppo and Northern Idlib.
Fatah al-Sham stormed the bases of al-Shamiyeh Front in the Northern and Western parts of Aleppo province, taking control over the towns of Anadan, Kafr Hamra, Khan al-Assal, Haraytan, Kafr Naha and Orum al-Kobra.
The previously named al-Nusra Front also took control of a base of militants affiliated to Faylaq al-Sham in the town of Salqin in Northern Idlib, capturing a number of Faylaq al-Sham positions.
Fatah al-Sham also captured the camps, bases and warehouses of Jeish al-Mujahedeen in the village of al-Halazoun in Idlib province.
Commander of Jeish al-Mujahedeen Abu Bakr said that most of his group's main bases and warehouses have been sieged by Fatah al-Sham and their supply lines in Northern and Western Aleppo province have been cut off by the rival terrorist group.
Some sources close to the terrorist groups have disclosed that Abu Bakr has fled to Turkey.
Damascus
Syrian Army troops repelled an attack by Fatah al-Sham Front in Southwestern Damascus while the country's fighter jets targeted terrorists' military convoy in Eastern Ghouta.
Fatah al-Sham terrorists approached the village of al-Maqrouseh in Western Ghouta near the border with al-Quneitra province to prevail over government forces' position, but their attack was repelled by the army men.
At least 14 members of Fatah al-Sham were killed or wounded in the clashes. The rest of terrorists fled the battlefield.
The army aircraft, meantime, targeted a convoy of terrorists' vehicles in Kasareh Bahr region in al-Qalamoun al-Sharqi, killing a number of militants and destroying the entire military column.
Homs
Syrian Army troops and Air Force continued to target ISIL's concentration centers and movements in Eastern and Southwestern Homs, inflicting major losses on the terrorists.
The army soldiers targeted ISIL's defense lines near the T4 airbase, East of the Fourth Station, Ba'ar al-Fawa'erah region and a region near Jahar crossroad in the countryside of the ancient city of Palmyra (Tadmur), killing or wounding a number of terrorists and destroying their vehicles.
The army aircraft, meanwhile, pounded ISIL's gatherings and movements near Palmyra and near al-Quaryatayn in Southwestern Homs, killing over 20 terrorists and destroying five vehicles.
Also on Wednesday, the Syrian army continued its advances in the Eastern part of Homs province to maintain security at T4 airbase, and seized back a strategic region from the ISIL.
The key Ba'ar al-Fawa'ereh region South of T4 airbase came under the Syrian army's full control after several hours of fierce clashes with the terrorists.
At least 20 ISIL terrorists were killed and many others were injured in tough battle with the Syrian army and popular forces while several others retreated from the battlefield to areas under their control.
Raqqa
The Kurdish-led Syrian Democratic Forces (SDF) managed to fend off ISIL's attack in Western Raqqa.
The SDF warded off ISIL's attack in the villages of Ja'abar al-Qarbi, Ja'abar al-Sharqi and Sweidiyeh al-Saqireh in the Western countryside of Raqqa city, killing at least 24 ISIL terrorists and destroying three of their vehicles.
Lattakia
Fatah al-Sham Front took control of Jeish al-Mujahedeen camps and centers in the Northern parts of Lattakia as infighting among the terrorist groups has intensified.
News websites affiliated to the terrorist groups reported that the development came after al-Nusra Front launched heavy attacks on Jeish al-Mujahedeen bases in Jabal al-Akrad and Jabal al-Turkman and ended the latter group's presence in Lattakia.
Also, al-Nusra Front members arrested Jeish al-Mujahedeen's top commander, Yahya Barimo, in the coastal areas and seized weapons and ammunition of the terrorist group.
Jeish al-Mujahedeen's commander Mohammad Abu Bakr had earlier announced on his twitter page that the group will be dissolved but his deputy dismissed Abu Bakr's remarks in a statement, stressing that although the group's bases are collapsing, he will continue his presence on the social media!