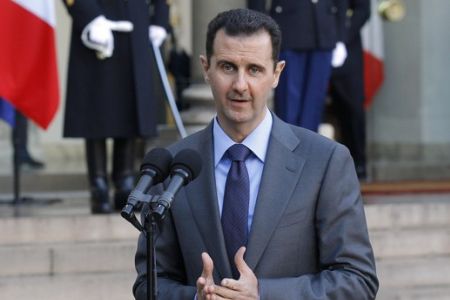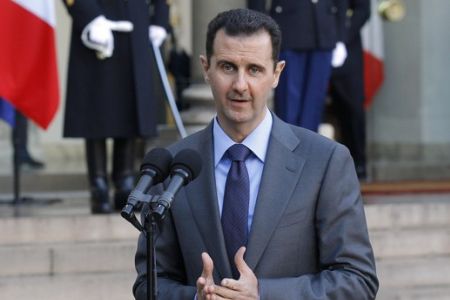 Syrian President Bashar al-Assad has censured Israel for the failure of direct talks with Palestinians, saying Tel Aviv seeks no peace with its expansionist policies.
Assad referred to Arab nations' inclination for security in the Middle East and said, "[the] Arab sides have been willing to make peace, but on the Israeli side this is non-existent," a Press TV correspondent reported on Thursday.
He also made a reference to the failed US efforts to commit Israel to a limited freeze on illegal settlement constructions in the occupied territories.
"Again we see that Israel is not a partner for peace," the Syrian president told journalists in Paris after a meeting with his French counterpart Nicolas Sarkozy on Thursday.
He went on to say that any direct talks between Israel and the Palestinians should not merely focus on the settlements issue.
Assad further noted that the settlements issue should not be at the center of the direct talks between Israel and the Palestinian Authority (PA).
"If we want to talk about peace, we have to talk about legal rights, about territorial restitution and not talk about the settlements," he added.
Earlier, the US State Department said that attempts to persuade Israel to stop settlement constructions were dropped as the issue "became an end in itself rather than means to an end."
Israel and the PA launched the negotiations on September 2 in Washington under pressure from the United States.
The direct talks, vehemently opposed by the Palestinian public and other major factions, soon reached an impasse when Tel Aviv refused to renew a partial settlement freeze after it expired on September 26.
Palestinians argue that Israel's continued settlement expansion is aimed at stripping the occupied West Bank of its Palestinian and Islamic identity and judaizing the land where they plan to build their future Palestinian state.
Israel occupied large swathes of the West Bank, including East al-Quds (Jerusalem), which Palestinians deem the capital of their homeland, and Syria's strategic Golan Heights during the 1967 Six-Day War.
Damascus has also been demanding the return of its occupied territory before any dialogue could take place.
Four rounds of indirect talks between Israel and Syria failed to yield results due to Israel's refusal to withdraw from the region.