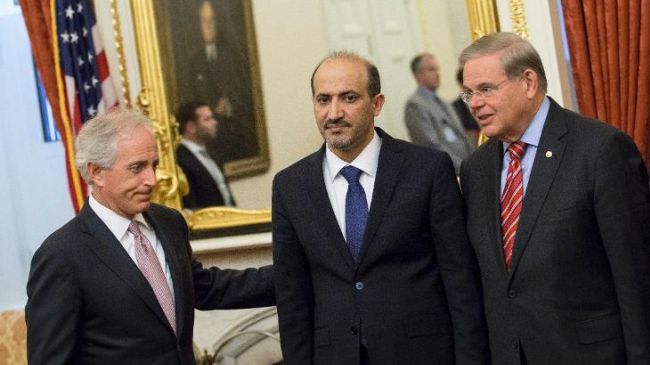 The leader of Syria's main foreign-backed opposition group has called for more US weapons to fight the Syrian government.
Ahmad Jarba, the head of the so-called Syrian National Coalition (SNC) who is on a visit to the United States, said on Wednesday that their forces need "efficient weapons… so we can change the balance of power on the ground."
Speaking at the US Institute of Peace in Washington, Jarba claimed that such a move would help open the door for a political solution in Syria.
He made the remarks ahead of talks with US Secretary of State John Kerry and other top US officials.
Jarba had earlier said the Western-backed group received US TOW anti-tank missiles.
The plea for new weapons is made as the Syrian army has been gaining the upper hand against the foreign-backed militants.
Earlier in the day, a large number of Syria's militants in the strategic city of Homs evacuated the city based on an agreement reached between the militants and the government on May 4.
It would bring almost all major districts of the city under the control of government forces. As part of the truce, the militants are to free about 70 government soldiers.
Jarba also acknowledged that Homs was "a very important symbol" for the militants.
Syria has been gripped by deadly violence since March 2011. Reports say more than 150,000 people have so far been killed and millions displaced in the violence.
According to reports, the Western powers and their regional allies — especially Qatar, Saudi Arabia and Turkey — are supporting the militants operating inside Syria.