Syria
Syria militants receive US training in Qatar: Documentary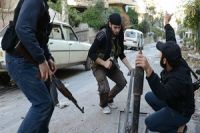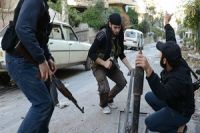 The United States trains foreign-backed Takfiri militants operating inside Syria in Qatar, a new documentary reveals.
According to Press TV, militants interviewed in the documentary, scheduled to be aired on Tuesday night on PBS, said they are trained by American trainers in a secret base in Qatar to attack Syrian government troops and vehicles.
According to the documentary, militants meet their "American handlers" in Turkey before traveling to Qatar.
At the Qatari base, which is reportedly on the border with Saudi Arabia, the militants receive three weeks of training on how to use sophisticated weapons and fighting techniques.
"They trained us to ambush…vehicles and cut off the road," a militant said in the interview, adding, "They also trained us on how to attack a vehicle, raid it, retrieve information or weapons and munitions, and how to finish off soldiers still alive after an ambush."
Damascus has repeatedly said the US and its regional allies have been providing the militants with funding, weapons and military trainings since the beginning of the militancy in the Arab country. Since 2011, the US has provided the militants in Syria with aid worth of nearly $300 million.
Reports have also shown that the US Central Intelligence Agency is covertly training the foreign-sponsored Syria militants in neighboring Jordan.