Syria
Syria- Overwhelming operations in Homs… Army advances east of the country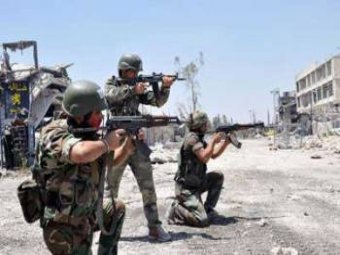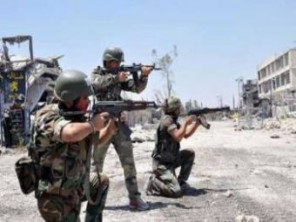 Syrian Arab Army carried out today morning 8 July a swift operation in the orchards of al-Waer in Homs city, where the gunmen are deployed; the army continued its operations in Idlib and in the east of Syria.
The army implemented a commandos operation today morning on the militants' dens in al-Waer groves by raiding their hideouts, as it clashed with the insurgents killing at least 20 of them.
The members of "Free Army" militia repelled the army's operation by targeting the Blood Bank located in the region, when the armed men opened fire on the "Blood Bank" a person martyred and dozens injured.
According to our correspondent, the army's operations continued in the Old city and units of the armed forces (Syrian Army) discovered a 500-meter tunnel extends from Bab Houd towards Jouret al-Shayyah.
Army 'extends' its operations east of the country
The army extended its operations, when it stroke a gathering of gunmen in Raqqa city, killing tens of them.
Our reporter to Deir Ezzor said that the army carried out operations against armed men in the districts of al-Sina'a, al-Jbaileh and al-Rasafah, inflicting deaths, including Abdullah Zayed al-Mahal of "Ezz al-Isalm brigade" (Glory of al-Islam).
Meanwhile, the army targeted a gunmen gathering in Kabajeb area at the route of Damascus – Deir Ezzor, killing Mustafa al-Ahmad of "Jaafar al-Tayyar brigade", in addition to the destruction of an ammunition depot and headquarters belong to "Osoud al-Tawhid battalion".
Finally, fighting took place between members of "Abu Zer al-Ghifari" and others in al-Sheik Yasin neighborhood.
Idlib countryside witnesses the army's operations
Army's operations continued in Idlib countryside, as the army's units managed to destroy militia-strongholds, which they were using as their headquarters in Ma'art al-Nouman Farms, killing 5 militants who were holed up inside, including the sniper Mohammad al-Berru, nicknamed as "Mohammad al-Qabadai" (the brave).
At last, the army carried out an operation against the militants' headquarters near the village of Bsanqoul at the route of Idlib – Lattakia, killing dozens of them, including the leader Abdul Rahman al-Issa.