Middle East
Syria
Syria reopens Damascus international airport after months of closure over COVID-19
Syria has reopened Damascus International Airport for commercial flights after six months of closure due to the coronavirus pandemic, saying it had imposed strict health measures.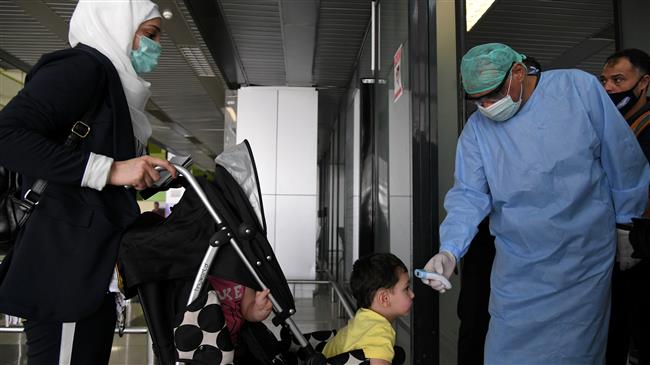 On Thursday, people arrived at the airport to embark on the first flight to the Egyptian capital Cairo.
Airport workers, wearing masks and some clad in protective overalls, were spraying disinfectants on the luggage of the passengers.
The passengers were sprayed with detergents as they proceeded to the customs department.
The first scheduled flight took off with 130 passengers on board a plane operated by the national flag carrier Syrian Airlines for Cairo.
Bassem Mansour, the head of the Syrian Civil Aviation Authority, told reporters that measures were taken against COVID-19 based on international standards.
All measures have been adopted in accordance with the instructions of the International Civil Aviation Organization (ICAO) and the World Health Organization (WHO), he said.
Mansour noted that Aleppo, Lattakia and Qamishli airports will resume their operations after evaluating the procedures taken at Damascus airport to guarantee precautions against the COVID-19 pandemic.
Shifa al-Nuri, another Syrian aviation official, said all measures, including polymerase chain reaction (PCR) tests, distribution of sanitary products, regular temperature checks, floor marking for social distancing and an increase in the number of immigration and passport control officers, have been taken at Damascus International Airport.
During the airport closure, the Syrian Airlines organized several flights to bring back Syrians stranded abroad as a result of COVID-19.
In August, the Syrian Ministry of Interior urged Syrians abroad, who wished to return, to contact Syrian embassies to come back home
The Syrian Health Ministry on Thursday reported 47 new coronavirus cases and two more deaths, raising the tally of infections to 4,247 and the death toll to 202, the Health Ministry said in a statement.
The ministry also announced the recovery of 14 more patients, raising the total recoveries in the country to 1,117.
The first COVID-19 infection was reported in Syria on March 22, while the first death was recorded a week later.