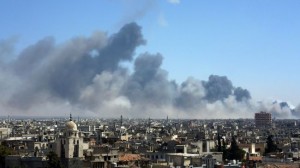 Authorities in Syria are restoring electricity to the areas that suffered a blackout due to a sabotage blast targeting a major gas pipeline feeding electricity stations.
Syrian Electricity Minister Emad Khamis said power will be fully restored to all affected areas within 48 hours.
"A terrorist attack on a gas pipeline that feeds a power station in the south has led to a power outage in the provinces and work to repair it is in progress," Khamis stated.
The bomb attack was carried out near Damascus International Airport on Wednesday. The power cut affected many areas in Syria including the capital.
The so-called Syrian Observatory for Human Rights, which is based in London, said the attack was carried out in the town of Ghasula, around two kilometers (1.2 miles) from the airport.
The blackout took place amid the ongoing battle between Syrian armed forces and the foreign-backed Takfiri militants across the country.
More than 100,000 people have been killed and millions displaced due to the turmoil that has gripped Syria for over two years.