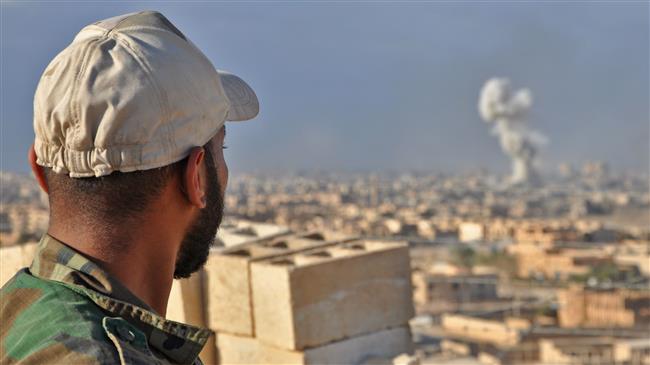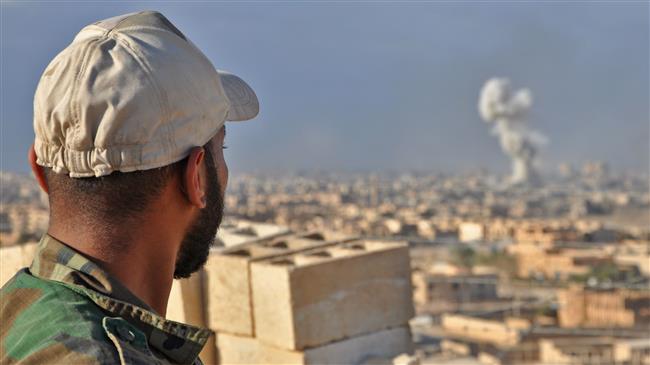 Syria's state television says government-backed forces will soon enter the northern region of Afrin, which has been under Turkish attacks for a month now.
Turkey began attacking the region on January 19, prompting local authorities to ask Damascus for help.
On Monday, state news agency SANA cited its correspondent in Aleppo as saying that government-backed forces would enter the city shortly.
"Popular forces will arrive in Afrin in the next few hours to support the steadfastness of its people in confronting the aggression which Turkish regime forces have launched on the region," it said.
A senior Syrian Kurdish official said on Sunday that Kurdish authorities and the Syrian government had reached a deal for the Syrian army to enter Afrin, and that it could be implemented within two days.
"We call on the Syrian state to carry out its sovereign obligations towards Afrin and protect its borders with Turkey from attacks of the Turkish occupier," Kurdish authorities in Afrin said in a statement late last month.
Kurdish authorities in Syria's Afrin district call on the Syrian government to send troops to protect the country's sovereignty against a Turkish military incursion.
Ankara began its incursion with the express aim of confronting YPG militants which it views a terror organization linked to the Kurdistan Workers' Party (PKK) rebels fighting for autonomy on Turkish soil.
It came after the US announced plans to set up a 30,000-strong force with the help of Syrian Kurdish militants close to the Turkish border in Syria.
YPG constitutes the backbone of the so-called Syrian Democratic Forces (SDF) militants which are being trained and equipped by the US, much to Turkey's dismay.
On Monday, Iran's Foreign Minister Mohammad Javad Zarif told a conference in Moscow that the use of proxies by the United States is dangerous for the region.
"We believe that the anxiety of our Turkish neighbors about the US designs in the region are understandable, but this is not the way to address those anxiety… Incursions in others' territories is not the way to address the problems," Zarif said.
Turkey has threatened to expand its attacks to the nearby area of Manbij, where American forces are present.
The US military has called on Turkey to halt its military action in Afrin. Ankara, for its part, has urged Washington to either stop supporting Kurdish militants or risk a confrontation.
Syrian President Bashar al-Assad has harshly denounced the US invasion and also slammed the Turkish incursion as an act of aggression.