Syria
Syria set to expel Jordan envoy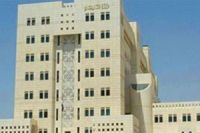 Syria is set to expel Jordan's charge d'affaires, in a tit-for-tat move hours after Amman gave the Syrian ambassador 24 hours to leave the kingdom.
According to IRIB, this came after the Jordanian Foreign Ministry declared the Syrian Ambassador to Amman Bahjat Suleiman 'persona non grata'.
The Syrian Foreign Ministry said in a statement on Monday "In response to the Jordanian government's baseless decision to declare the Syrian ambassador to Amman persona non grata, the Syrian government has decided to declare the Jordanian charge d'affaires in Damascus persona non grata."
Earlier, the Jordanian Foreign Ministry said the decision came after Suleiman's repeated "insults" to the country and its leadership.
Jordanian officials say the Syrian ambassador had warned the US-allied kingdom that Syrian missiles could be used against Patriot batteries which are expected to be deployed in Jordan soon.
Jordan maintains an embassy in Damascus and has avoided publicly supporting militants fighting to overthrow Syria's President Bashar al-Assad.