Syria
Syria: Terrorists' Tanks Targeted in Battle with Gov't Forces near Khan Touman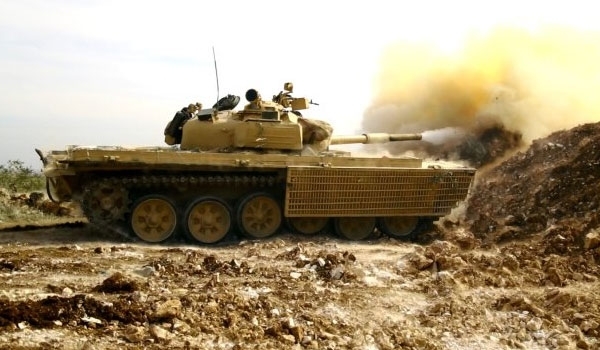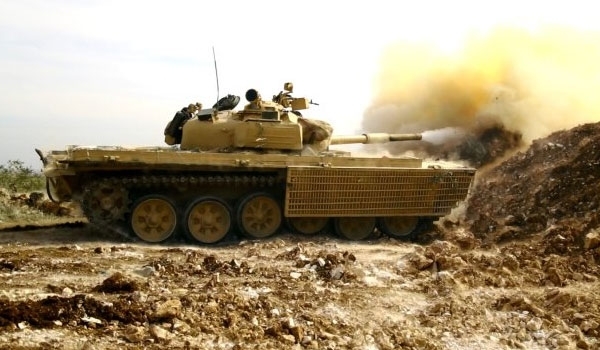 Several tanks and armored vehicles of the terrorist groups were destroyed by the Syrian Army troops' heavy missile fire in the Southern part of Aleppo province near Khan Touman battlefield.
The Syrian army's missile units hit a T72 tank of terrorists and two more tanks of al-Nusra Front and a BMP vehicle, whose crew also were killed or wounded.
In the meantime, most of the supply lines of the terrorist groups in the Western part of Khan Touman to Rashedeen 4 and 5 and al-Khalediyeh were bombed by the heavy fire of the Syrian air fleet and the army's artillery and missile units.
Scores of the terrorists were killed or wounded in the shelling and several vehicles of the terrorists were destroyed in the attacks too.
The Syrian government force, including army men, the Iraqi and Lebanese Hezbollah fighters and the National Defense Forces, have significantly advanced against the Takfiri terrorists in Khan Touman battlefield.
Reports said earlier today that the Syrian Army troops and their allies continued to push back the terrorist groups from their strongholds in the Southern part of Aleppo province and took full control over more territories near Khan Touman following several hours of non-stop battle.
The Syrian government forces, including the Iraqi and Lebanese Hezbollah, stormed defense lines of the terrorist groups near Tal Bastawi, which ended in the killing or wounding of tens of the Takfiri terrorists who fled the battlefield.
The Syrian military forces captured Tal Bastawi and started to fortify their positions there.
The pro-government forces, meantime, repelled the terrorists' offensive near the village of Abu Reil and killed at least 25 of them.
The Al-Nusra and units of the Free Syrian Army (FSA) claim to have taken back Khan Touman, but government forces say they are still in charge of key centers and blocks in the town.
The Syrian army alongside the National Defense Forces and Hezbollah fighters regained full control over the town of Khan Touman in December. Ever since then the city has fallen back to the terrorists twice, with the second time being this weekend.
Following an unsuccessful truce that was repeatedly violated by the terrorist groups, the Al-Nusra Front – the Syria arm of the Al-Qaeda terrorist group – could relocate some 20,000 terrorists to Northern Aleppo via Turkey's soil to launch a large-scale attack on pro-government positions in several key cities in Aleppo province, including Khan Touman in the Southwest.