Syria
Syria: Terrorists Trapped in Deir Ezzur City Neighborhoods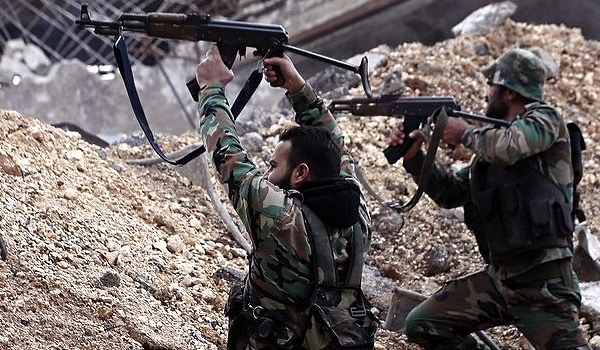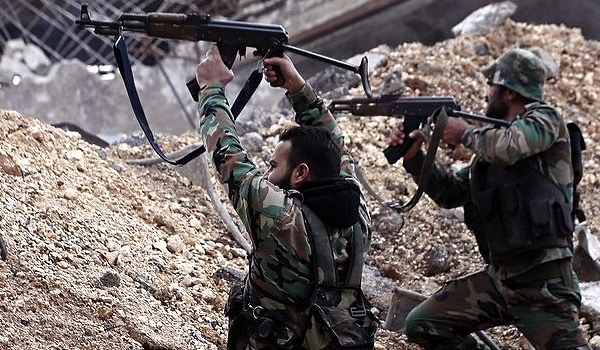 The Syrian Army troops seized control over several regions on the Eastern bank of the Euphrates River and laid siege on the terrorists in the few neighborhoods that are still under the control of ISIL in Deir Ezzur city, military sources said on Saturday.
The sources said that the army soldiers engaged in a tough battle with ISIL and imposed control over several positions near the village of al-Hosseiniyeh, laying siege on the remaining terrorist-held neighborhoods in Deir Ezzur city.
Also, the army soldiers cut off the road connecting the Eastern and Northwestern countryside of Deir Ezzur to each other on the Eastern bank of the Euphrates River, they added.
ISIL suffered heavy casualties and its military hardware and vehicles sustained major damage in the attacks.
In the meantime, reports also said that the army units inflicted major defeats on ISIL in the neighborhoods of al-Sina'ah and al-Orfi.
Military sources said earlier today that the army soldiers managed to drive ISIL out of more positions near Mahkan in the Southeastern countryside of al-Mayadeen and laid siege on the entire ISIL-held villages and settlements on the Western bank of the Euphrates River from Mahkan up to Deir Ezzur city.
The sources further said that the army has gained control over 30 percent of al-Mayadeen.
In the meantime, the Syrian Air Force carried out a fresh round of combat flights over ISIL's positions and movements in the towns, villages and neighborhoods of al-Mayadeen, Zebyan, Buqrus Tahtani, Buqrus Fowqani, Mouhassan, Bu Leil, al-Hosseiniyeh, al-Janineh, al-Omal, al-Orfi, al-Sina'ah, al-Hamidieyh and al-Huweiqa, killing and wounding a number of terrorists and destroying their positions and vehicles.